Paperless Demo Store to spur innovation for retail chains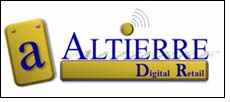 Altierre Corp., a provider of wireless dynamic pricing solutions for retailers, unveiled a Retail Technology Center at its company headquarters in San Jose, consisting of a 45,000-square foot paperless retail demo store and adjacent tech lab.

Designed as a full-scale, fully-functional replica of a large retail outlet, Altierre's Retail Technology Center will serve as an incubator and testing facility for the company's products as well as other companies' new applications aimed at improving productivity, merchandising, display and the consumer shopping experience for large retail chains.

"Forward-looking retailers are all looking for ways to improve the customer's shopping experience, increase efficiencies and productivity and enhance profitability. The demo store is perfect for test driving new hardware and software under actual retail conditions," said Altierre Chairman and CEO Sunit Saxena.

"It is designed to be a proving ground for green tech and other retail-oriented innovations, where our customers, partners and vendors can work with us to develop applications under conditions that are identical in size and scale to a real world store. This would be tremendously cost effective for a startup or small company, who otherwise would not have an opportunity to test their solutions in a real environment."

Altierre has developed a revolutionary hardware and software platform designed to bring large retail chain stores into the digital age. The system combines wireless technology with digital display and long-range RFID innovations to enable real time dynamic pricing, allowing retailers to change prices on specific products in a matter of seconds while eliminating pricing inaccuracies. This eco-friendly solution creates a paperless retail environment, providing cleaner-looking aisles and saving literally tons of paper currently used in paper price tags and displays.

Altierre's technology is applicable across a wide spectrum of large retail chain verticals, including supermarkets and department stores. The company's wireless IT platform and electronic shelf labels are currently in pilot implementation with two of the nation's largest grocery chains, paving the way for partnership announcements with other retailers in the near future.

Altierre Corp.