Apparel maker Fox uses Vocollect HighJump WMS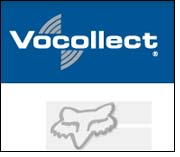 Vocollect, Inc., the world leader in voice solutions for mobile workers, and Fox Racing Inc., a leading apparel manufacturer and distributor for motocross, BMX, wakeboarding, surfing, and mountain biking headquartered in Morgan Hill, Calif., announced that their recent deployment of HighJump Warehouse Advantage for warehouse management and Vocollect Voice has enabled Fox Racing to double its distribution center productivity, and that it has achieved its projected return on investment in half the expected timeframe.

After selecting HighJump Software and its authorized business partner Vitech Business Group, Inc. to optimize its warehouse management system (WMS), Fox Racing sought out a solution to improve the flexibility, adaptability, speed and accuracy of the order selection process at the company's two distribution centers (DCs). The company found that RF-scanning could not deliver the desired level of productivity gains and pick-to-light couldn't provide the required flexibility.

After settling on voice as the only technology to meet their productivity and accuracy goals, Fox Racing evaluated the various voice provider options available in the marketplace. Fox chose Vocollect because of its proven track record in providing industrial-strength solutions, its financial stability as the global leader in the business of voice, and its certified direct interface with the HighJump WMS solution.

"Vocollect Voice was a natural fit with HighJump's supply chain execution and enterprise methodology," said Keith Batt, president, Vitech Business Group, Inc. "Our combined offering accelerated the payback on voice and achieved dramatic bottom-line results," he said. In just six months:

• Productivity has doubled for Fox's order selectors, with 150 lines selected per hour, up from 70 with its previous paper-based solution. Further, voice has helped the company move from a total of 35 selectors to 18.

• Order accuracy has increased to 99.99%.

• Training time has been reduced from a full day to less than two hours. Order selectors are achieving full productivity by the end of the second day of use.

• Training for Spanish-speaking employees has been simplified through the voice system's multilingual capability.

• Worker satisfaction has significantly increased through shorter work days. Work now finishes by 5:30 p.m., versus the previous 9:00 p.m.

• The hands-free, heads-up aspect of the voice system has resulted in less worker distractions and has reduced the opportunity for work injuries.

• ROI has been achieved in six months - six months earlier than projected.

"We had reached the point where we would be forced to turn business away if something didn't change, and change quickly. We simply didn't have the bandwidth to keep pace with our rapid growth," said Robby Dhesi, director of distribution, Fox Racing Inc. "Vocollect helped us reach a higher level of performance on every goal we set, and now we should be able to achieve our growth objectives across North America and internationally."