Nano Camouflage outfits for fashionistas & environmentalists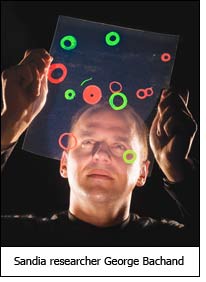 Certain fish species blend with their environment by changing color.

Sandia National Laboratories researchers have demonstrated that, in theory, they could cause synthetic materials to change color like fish do.

"Camouflage outfits that blend with a variety of environments without need of an outside power source — say, blue when at sea and then brown in a desert environment — is where this work could eventually lead," says principal investigator George Bachand. "Or the same effect could be used in fabricating chic civilian clothing that automatically changes color to fit different visual settings."

Such clothing could be a reality in five to ten years, he says.

The power source for both the biological and the lab method relies on the basic cellular fuel called ATP, which releases energy as it breaks down. Fifty percent (roughly) is absorbed by the motor proteins — tiny molecular motors able to move along surfaces.

When fish change colors, motor proteins aggregate and disperse skin pigment crystals carried in their "tails" as they walk with their "feet" along the microtubule skeleton of the cell. By this means, they rearrange the color display.

Introducing an on/off switch
To put motor proteins in motion or switch them off, nature uses complex signaling networks. The Bachand group's method is simpler. It involves the simple genetic insertion of a kind of docking port in the motor protein's structure. What docks are zinc ions. Bound zinc ions turn the protein's action to "off." Stripping zinc ions out with chemical agents allows the motor protein to work again. The effect is controllable, and even reversible.

"We essentially reengineered the protein structure to introduce a switch into the motor," says Bachand. "So we can now turn our nanofluidic devices on and off."

Previous efforts at regulating motor activity have used fuel intake as a control mechanism: the less the fuel, the slower the process. The Bachand group's switch, operated independently of fuel changes, resembles the improvement in early automobile technologies when a simple ignition switch took over for more complicated rheostats. The paper describing this work was a spotlighted article in the journal Biotechnology and Bioengineering (vol. 100, p. 478).

But what is it that the switch operates?

Like crowd surfers at a rock concert
In a cover article in the high-profile journal Advanced Materials (Dec. 2, 2008), the Sandia team describes a kind of inverted cellular world, where motor proteins do not run about but instead are upended so that their tails are embedded in a protein-modified layer on a glass slide. Free-ranging microtubules — cylindrical protein filaments — instead of forming the cellular skeleton of cells, are passed along by the waving feet of the motor proteins like crowd surfers at a rock concert, or like buckets passed hand-to-hand along a line of firefighters.