New UHF-Band RFID tag for garment management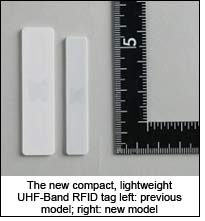 Fujitsu Limited and Fujitsu Frontech Limited announced the availability of a new and enhanced version of their UHF-Band RFID tag, which has been deployed for work uniform management and other applications. The new product is available worldwide as of today. Product inquiries from outside Japan remain strong, and Fujitsu Frontech will continue to handle sales for markets worldwide.

The new RFID tag, while being waterproof as well as heat-, pressure- and chemical-resistant during cleaning, is 40% smaller, 50% lighter, and more flexible than the previous tag model. Initial deployment costs for the new tag are also 40% lower(1), as the tag can now be attached to garments and other textile products through ironing by using a thermal adhesive.

Since Fujitsu developed the world's first UHF-Band RFID tag in May 2006, some 2.5 million tags have been deployed in the transportation and hospitality industries. Customers have expressed the need for a smaller, heat-sealable version, and Fujitsu and Fujitsu Frontech are pleased to provide a product meeting these needs with today's global release.

The new RFID tag maintains the durability of its predecessor, but in a package that is 40% smaller, 50% lighter—only 1 g—and more flexible. Moreover, whereas the previous version could only be sewn on, the new tag can be affixed using heat-sealing, reducing initial deployment costs (particularly tag attachment costs) by roughly 40%, thereby making it practical for a wider range of applications.

Furthermore, one of the key features of the new UHF-Band RFID tags is that they can be read from long-range distances. By taking advantage of functions allowing for simultaneous readings, uniforms attached with the tag can be scanned in batches, tracked, and automatically sorted, making the visualization of inventory status quick and efficient.

The new tag will be exhibited at RFID Journal Live! 2009, running April 27 to 29 in Orlando, Florida, and at Fujitsu Forum 2009, running May 14 to 15 at the Tokyo International Forum in Chiyoda Ward, Tokyo.

Features
1. Heat-sealable attachment
The new tag permits heat-sealable attachment using thermal adhesives, a frequently requested feature from customers. Reducing the number of steps involved in attaching the tag, initial deployment costs are lowered by roughly 40%.

2. Compact and flexible
With greater flexibility due to its rubber-based composition, and a compact, lighter package, the new tags can be used in a wide variety of textile products without creating discomfort. The small size also allows the tags to fit clothing accessories, such as ties and belts, expanding the possible applications of the tag.

3. Durable
The new tags are waterproof, and heat-, pressure- and chemical-resistant. They can withstand the entire cleaning process of washing, drying, and ironing at least 200 times.