SCAD to implement Lectra Romans Cad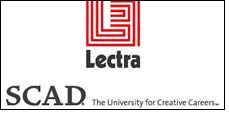 Lectra, the world leader in integrated technology solutions dedicated to industries using soft materials -- textiles, leather, industrial fabrics, and composite materials, announced Savannah College of Art and Design (SCAD) has stepped up their long-standing partnership with Lectra to be the first school in North America to implement Romans Cad®, a dedicated footwear and accessory 2D and 3D design solution suite.

SCAD offers a choice of degree programs in 42 art & design majors. SCAD's fashion program offers Bachelor of Fine Arts, Master of Arts & Master of Fine Arts degrees. The curriculum at SCAD emphasizes on learning through individual attention in an inspiring university environment. SCAD's vision is to provide a superior education through talented and dedicated faculty and staff, leading-edge technology, advanced learning resources and comprehensive support services.

"In today's economy, it is more important than ever for our students to learn and use cutting-edge technologies that are reliable, cost-efficient and allow for creativity," says Anthony Miller, Department Chair of Fashion and Accessory Design at SCAD. "We pride ourselves in preparing our students for professional, creative careers using innovative technology like Lectra. We are pleased to have a long-standing relationship with an industry leader like Lectra. And, we are thrilled to be the first US university installation of Romans Cad enabling our students to design and create shoes with easy-to-use, powerful and effective technology."

Romans Cad 2D is a powerful pattern-making solution for developing and refining footwear patterns. It offers standard libraries and macro functions to automate pattern making operations. These features not only help in simplifying pattern operations but also in improving efficiency and accuracy. Romans Cad Software 3D Design provides all the necessary functionalities for designing and modifying styles on 3D lasts and immediately checking the result in 2D. Decoration, stitching, welts, buckles and laces can also be integrated in 3D. The program has capabilities to simulate accurately using material thickness, colors and textures to provide a virtual 3D image of new styles.

Romans Cad is designed to make it easier to carry out all shoe design operations, following student's traditional expertise. In adopting Romans Cad solution for both 2D and 3D design in the course work, the students at SCAD will be able to get the practical expertise necessary to succeed in their careers in the fashion industry.

"We are very proud that such an elite school like SCAD is partnering with Lectra to prepare our next generation of fashion professionals," according to Roy Shurling, President for Lectra North America. "It demonstrates Lectra's very strong commitment to support the future of our fashion industry by offering them the most powerful tool to design shoes and leather goods."

Other schools using Lectra's solutions are Central Michigan University, Fashion Institute of Technology, Parsons the New School for Design, Florida State University, North Carolina State University, & The Art Institute, among many others in the US and in the world.