Lectra: a passion for innovation, ESCP-Europe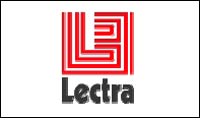 Lectra, the world leader in integrated technology solutions dedicated to industries using soft materials—textiles, leather, industrial fabrics, and composite materials—, is one of 17 European companies chosen to participate in the report 'A New Look at Innovation,' presented on April 30 to Christine Lagarde, French Minister for Economic Affairs, Industry and Employment.

To coincide with the French presidency of the European Union, "Europe takes action to meet today's challenges" (July 1 to December 31, 2008), the report was written by Pascal Morand, CEO of ESCP Europe (European School of Management) and Professor of Economics, and Delphine Manceau, Professor of Marketing at ESCP Europe and innovation marketing specialist.

The result of a collaborative working process led by the report's authors in conjunction with teachers at ESCP Europe as well as other academic experts, the document incorporates testimonials from 24 CEOs and senior executives of 17 French and European companies.

These business leaders were consulted by the writers in order to glean their overall view and perception of innovation, to collect their ideas about factors for success and failure, and to document strategies for innovation implemented within their own companies. Companies were chosen from extremely diverse market sectors, some with a strong technological bent, others less so, all of varying sizes—from young, innovative companies to global corporations. The firms selected were singled out for their great capacity for innovation and their success in international markets—among the 17 chosen were: Hermès, l'Occitane, l'Oréal, PSA Peugeot Citroën, Orange, Scania, Sony Europe, Total and Lectra.

The aim of the report is to propose "a wider definition of innovation which goes beyond research and development and integrates all other business factors," and also to establish "indicators that enable, within the framework of an update of the Lisbon strategy, better measurement of the results of innovation policies implemented by member states and institutions of the European Union."

Arguing for a wider vision of innovation that does not stop at R&D but integrates work done on business practices, economic models, design and marketing, the report makes a number of points that favor European firms' capacity for innovation. It also proffers new indicators for measuring capacity for innovation and presents 10 points of action destined for public authorities as well as member states and institutions of the European Union.

"With innovation an essential factor in economic competitiveness, it cannot be limited to just research and patents," say Morand and Manceau. "In an age of globalization, investment in research is just not enough. Innovation only creates value and revenues for companies and for the economy if it filters into the business and operating activities of firms."

The observations, ideas and conclusions presentedin this report coincide, for the most part, with the attitude, approach and innovation strategies Lectra has implemented every day since its inception—and which have propelled it to global leadership.