Abak version 7.0 to accelerate the billing cycle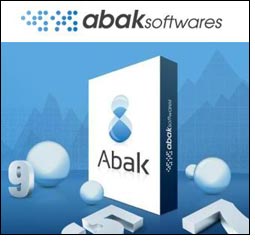 Abak Softwares launches version 7.0 of its Abak time, billing and project management software. The new release packs several key features and enhancements including a new dashboard, a Resource Planning module, electronic invoicing, integration with Simply Accounting, as well as an improved visual of generated reports. With these enhancements, Abak is providing greater flexibility and ease-of-use enabling small-to-medium size companies to further optimize their invoicing processes, simplify time management and increase overall business efficiency.

"Our Abak software has been in constant evolution since it was first introduced in 1997," said Guy Boisvert, CEO. "The application has undergone continuous improvements to remain at the cutting-edge of technological advancements, as well as adapt to changing client needs. The enhancements in version 7.0 are based on customer feedback, and reflect our commitment to continue serving the market with a best-in-class time and billing solution that facilitates project management with the utmost in ease-of-use and flexibility."

"Abak software is a solid time and billing project management system that has consistently delivered value to our company," said Michele Parent, Billing Manager at a cd f (i) architecture | urbanisme | interieur. "It's a highly flexible, easy-to-use system that helps companies to speed up and improve the accuracy of their billing and data entry processes, in addition to gaining an overall efficiency in project management. We're looking forward to using version 7.0 and are certain it will be very well received by all Abak users."

New features and improvements in Release 7.0 include:
Dashboard
A new Abak Dashboard has been added providing management with a quick and comprehensive view of key information required to manage project time and resources, presented in a user-friendly interface.

Resource Planning Module
Abak's new Resource Planning Module enables the scheduling of employees on multiple projects. Schedules can be planned by employee, by day and by hour. The new feature also enables management to compare scheduled versus actual hours spent on any given project in order to determine the man-hour profitability of each project. In addition, management can easily assess the actual availability of each employee facilitating the assignment of resources based on project requirements.

Electronic Invoices
To accelerate the billing cycle while reducing paper consumption, companies are now able to generate and send invoices via email. Email text accompanying the invoice can be pre-set or customized for each individual invoice, based on client billing preferences.

Simply Accounting Integration
Version 7.0 now includes integration with Simply Accounting, adding to the extensive list of major accounting systems already supported such as ACCPAC, QuickBooks, Avantage, Fortune, 1000/Acomba, and Virtuo. Integration with Simply Accounting is accomplished via ASCII.