China Leather Fair & All China Shoe-tech to keep very promising result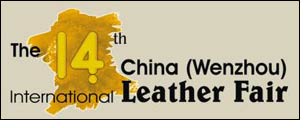 The 14th China (Wenzhou) International Leather Fair & 2009 Int'l Shoe Machinery & Raw Materials (China Leather Fair & All China Shoe-tech)--one of the biggest and most authoritative event for leather, shoes, materials and shoe machinery organized by Donnor Exhibition and greatly supported by Wenzhou Shoes & Leather Industry Association, Wenzhou Synthetic Leather Chamber of Commerce and Wenzhou Shoe Machinery Chamber of Commerce on 24-26th Sep. 2009 in Wenzhou Int'l Convention and Exhibition Center of hall 2, hall 3 , hall 5 and hall 6.

Even though in ecnomy crisis, China Leather Fair & All China Shoe-tech are keep a very promising result. A completed range of exhibits by top quality–both in manufacturer and materialsm, covering leather, PU/PVC Leather, Tanning Machinery and Chemical applicable to luggages & bags, shoes, automobile ornaments, furniture etc. and shoe machinery, raw material vamp finishing, shoe-making accessories & components and CAD, CAM system, etc. present here.

Trust Brands are greatly injected into this event, providing many choices for buyers from leather, or shoe materials or shoe machinery industries. Like Dongguan Wanhua Leather Co.,Ltd, Wenzhou Ruixin Leather Co., Ltd, Wai Hing Leather Mfg Co.,Ltd, Chaei Hsin Enterprise Co.,Ltd, Wenzhou Synthetic Leather Co., Ltd, Zhejiang Longyue Technology Co., Ltd, Taiwan Haoquan Enterprises Co.,Ltd,Comshoe Spanish Shoe Component, Wenzhou Baifeng Shoes Material Industry Co., Ltd, Haining Haixiang Group Co.,Ltd, Wenzhou Liyu Shoe Materials Co.,Ltd, Wenzhou Nanfang Shoes Material Co.,Ltd, Nanjing Great Eastern Resins Co., Ltd, Nanbao Resins Co.,Ltd. Desma (Guangzhou) Machinery & Engineering Co., Ltd, Wenzhou Shenming Shoe-making Machinery, etc.

China Leather Fair and All China Shoe-tech also pay much more attention on inviting visitors to experience the vivid exhibits and reliable presentation. Up to now, international and domestic buyers are attracted in a very good interaction with the organizer committee. Buyers from China Hong Kong, China Taiwan, Italy, Switzerland, Germany , Croatia, Austria, Netherland, Portugal, Sweden, Spain, Cyprus, Greece, UK, Ireland, Greece, Hungary, Denmark, Canada, Israel, Turkey, Brazil, Iran, Ukraine, India, Mexico, Pakistan, Bangladesh, Thailand, Egypt, Argentina, Peru , South America, Ghana, Sri Lanka, Syria, Singapore, etc. They all express strong purchasing intentions by the inquiry. They are involved in wholesalers, Detailers, Dealers, Agencies, franchiser , designer and others.

In the four days of fair, activities will be highlighted corresponding with fairs. Any exhibitors and visitors can enjoy free enjoy activities to attain more information and promotion.

A Selected Synthetic Leather Trend Show display and of environment-friendly products during three-exhibiting days, sharing with buyers the latest information about the pop materials and pop color.

A highlighted feature during the exhibition will be A Half-Day Trip for Visitors to Local Manufacturers of Synthetic Leathers on the second day of exhibition.