Roland GX-24 solution for apparel decoration & packaging production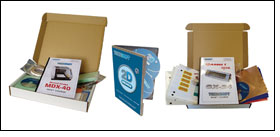 Roland DGA Corp. has teamed with TechSoft to create two new Education Solutions for career and technical educators in the U.S. and Canada. Each solution features TechSoft Education Kits, empowering teachers with the tools and technology needed to teach students 21st century skills including graphic design, sign making, apparel decoration, packaging design, product design and CAD/CAM.

Developed by a team of technical educators, TechSoft Education Kits come in two versions, one centered around Roland's sign making technology and another focused on Roland 3D prototyping technologies. TechSoft Education Kits include a set of written tutorials, design software (2D Design V2), tools and materials, providing teachers with everything needed to produce projects right out of the box.

The course booklet and CD guide teachers through various tutorials designed to familiarize them with easy-to-use Roland technology. TechSoft Education Kits are already widely used in schools across the UK and other countries and 2D Design is the CAD standard for the vast majority of UK secondary schools.

"I would 100% recommend Roland CAD/CAM machines to all schools as they really are easy to set up and operate," said Paul R. Hughes, head of design for Queen Mary's Grammar School in Walsall, UK. "The software links very easily to the CAD/CAM machines and designs can be outputted quickly and efficiently."

"What makes Roland Education Solutions different is the focus on teacher success," said Andrew Oransky, director of product management for Roland. "Too many technical training products require expertise on the part of the teacher to figure it out on their own. TechSoft Education Kits are used in schools worldwide and were designed by technical educators who understand the need to quickly come up to speed on the technology and offer students a variety of real world projects."

TechSoft Education Kits are tutorial based, beginning with unpacking the machine and getting it ready for use. Each subsequent tutorial develops a new skill or teaches a new technique. The included CDs contain sample files which can be used to create finished products.

"The quick learning curve and easy interface between the 2D Design V2 software included and Roland GX cutters combine into a powerful 'design and make' tool suitable for use in primary and secondary education through to the university level,"said Allan Jones, head of design and technology for Lampeter Comprehensive School in Wales, UK.

Roland GX-24 Education Solution – Apparel Decoration, Sign and Packaging Production
With the Roland GX-24 Education Solution, students learn how to cut vinyl for signs and vehicle graphics, cut heat transfer materials for decorated apparel, and cut card stock for packaging. This solution is based on the Roland GX-24 desktop vinyl cutter, the tool of choice for professional sign shops, apparel decorators and educational institutions worldwide. The GX-24 features optical alignment to allow printed graphics to be automatically aligned and accurately contour cut. When paired with the TechSoft Education Kit, commercial quality color-printed packaging, paper, vinyl labels and iron-on decals can be created with ease.