Styles For Less relies on Epicor Software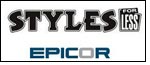 Epicor Software Corporation, a leading provider of enterprise business software solutions to the midmarket and Global 1000 companies, announced retailer Styles For Less has selected the Epicor Retail software suite to support chain expansion, streamline operations and strengthen processes around industry requirements and mandates.

Offering the latest fashion for ladies of all ages, Styles For Less provides its customers throughout California, Arizona, Nevada and Florida with a vast selection of apparel and accessories for school, athletic, career and casual wear. From denim, dresses and sweaters to handbags, shoes, jewelry and more, Styles For Less offers trend-setters a wide selection at affordable prices to complement their wardrobes.

To support upcoming plans for expansion, and to address business requirements such as PCI compliance, Styles For Less sought to partner with a proven industry leader to update its retail Point-of-Sale and back office infrastructure. Based on Epicor's award-winning, industry-leading software and services, Styles For Less selected the Epicor Retail software suite, which includes the following robust retail offerings:

• Epicor Retail Store: Provides point-of-sale (POS), returns management, data exchange and configuration tools functionality, along with Epicor Retail Mobile Store to support wireless devices for extending store processes beyond the register and workstation.
• Epicor Retail Merchandising: Streamlines operations, unifies asset management, and manages business from end to end.
• Epicor Warehouse Management: Ensures merchandise quickly flows from receiving through distribution to store shelves to optimize productivity, streamline operations and reduce stock-outs.
• Epicor Retail Planning: Effectively links financial plans, assortment plans, buying plans and individual store plans – and combines Merchandise Planning and Assortment Planning with rich visual tools to identify what's needed at both the chain and store level.
• Epicor Audit and Operations Management: Designed for multi-channel retailers, the solution accepts transaction data from any channel (POS, kiosk, Web or catalog), centralizes and verifies it for anomalies, and then feeds the clean and accurate data to the retailer's downstream systems. The module includes Sales Audit, Loss Prevention, Voucher Management, and Employee Productivity and Commission components.
• Epicor Retail CRM: Provides a 360-degree view of the customer, arming retailers with a broad set of complementary tools to build and manage loyalty programs, execute and manage campaigns and promotions, analyze customer databases and transaction information across sales channels, segment and manage lists, and analyze and measure the impact of CRM efforts.
• Epicor Financial Management: A comprehensive end-to-end suite of proven financial applications for the global enterprise that enables organizations to operate efficiently, comply with fiscal regulations, underpin strong corporate governance and drive performance.