Redcats adopts Keynotes Technology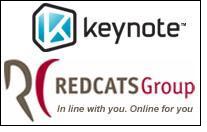 Keynote Systems the global leader in on-demand mobile and Internet test and measurement solutions for continuously improving the online experience, announced that Interval International and Redcats USA have recently adopted Keynote technology. Customers have many options and are choosing to use Keynote because its online test and measurement products are cost-effective, flexible, and comprehensive and deliver accurate data about their Web applications' performance and availability. These capabilities allow them to proactively address glitches that arise and optimize the end-user experience on their applications.

• Interval International and Redcats USA Adopt Keynote's Technology for Optimizing Online Performance from the End-User Perspective

• Benefits to Customers Include:

o Keynote's New Screen Sensing Technology, That Brings Visibility into the Performance of Interactive Flash and Silverlight-based Web Applications;
o The Ability to Script, Test and Monitor Complex Composite Web Transactions Combining Multiple Web 2.0 Technologies;
o A New 'Virtual Pages' Feature That Pinpoints Sources of Poor Performance such as Ads, Images and Video

Interval International

"We chose Keynote because we wanted a Web application monitoring tool that would provide us with accurate information about application failures so we could be confident we spend time investigating real issues. And we didn't want to become experts in the software," said Robert Gaynor, vice president of technology services for Interval International. "Keynote partnered with us to help us achieve the full value from their solution, ensuring the accuracy of our testing scripts and training our people so we could become more self-sufficient around the tool."

Interval International operates membership programs for timeshare owners and provides value-added services to its developer clients worldwide. Interval has a network of approximately 2,500 resorts in more than 75 countries and offers its resort clients and about 2 million member families high-quality products and programs through offices in 26 cities in 16 countries. It uses Keynote Application Perspective to test the performance and availability of its Web application.

"We use Application Perspective and Transaction Perspective because we believe that these solutions provide very accurate data," said Louis Picchione, director, operations and network systems at Redcats USA. "In addition, we write our own scripts using KITE (Keynote Internet Testing Environment) and we've found that Keynote's scripting tools are very flexible and easy to understand and use."

Redcats USA is a division of Redcats Group, a global leader in Home Shopping for apparel and home furnishing. Drawing on a multichannel network combining catalogues, e-commerce and stores, Redcats Group generated 3.69 billion euros of sales in 2008 with 14 brands in 30 countries and a staff of20,000 associates. It uses Keynote Application Perspective and Keynote Transaction Perspective to test Web site performance and availability for 16 Web sites on the Redcats USA Millena Platform (shared Web hosting platform).