Point Inside Indoor Mobile Ad Platform for mall-based retailers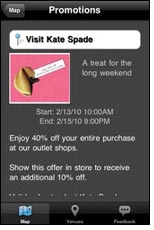 Point Inside, Inc., the leading shopping center mapping and navigation application for iPhone and Android-based phones, announced the availability of the Point Inside Indoor Mobile Ad Platform, an events and promotions management system which allows mall-based retail businesses and the brands sold by those retailers to connect directly with shoppers based on their location.

For the first time, merchants can promote their events and sales to shoppers who are actually inside the associated shopping center where a customer is navigating using the Point Inside app on their mobile phone. The promotions are "pull-based", meaning that the consumer initiates the query to view the ad based on his/her interest in a particular store or brand. Retailers benefit from highly-targeted, highly-relevant location-based advertising, and consumers can more easily find information on the events and promotions that are occurring from the brands and stores that they love while they are there in the mall.

Point Inside is the only free, fully interactive Indoor Smart Map directory of shopping mall interiors, level by level. It enables iPhone, iPod Touch and Android users to instantly locate over 100,000 stores and kiosks, as well as restrooms, elevators, ATMs, parking, play areas, and other guest services in hundreds of the top malls across every U.S. state. Point Inside also functions offline, even when there's no GPS, cellular or Wi-Fi signal available!

The Point Inside Indoor Mobile Ad Platform is already being used to promote events, services and sales by the three different classes of stores you'd expect to see in a shopping mall:

• large national chains (e.g. AT&T, Nordstrom and T-Mobile)
• mid-size chains (e.g. kate spade new york and Takken's Shoes)
• small chains and individual stores (e.g. ROAD Apparel and Obadiah Salon)

"Gone are the days of wasting costly ad impressions on consumers who aren't within 100 yards of your store," said Kevin Foreman, CEO, Point Inside, Inc. "The Point Inside Indoor Mobile Ad Platform, allows retailers to harness the power of location-based advertising by reaching their customers while they shop in the mall. Now everyone can instantly know of the events occurring in all their favorite malls, right on their phones."

Benefits for Shopping Center-based Retailers and Brands

• Point Inside allows retailers to target consumers exactly where they are shopping – while they are inside the mall.
• For each retailer, the Point Inside app provides the store's location on the map of the mall, as well as a free store description, store hours, link to their website, and a direct phone number to call.
• Each retailer can also choose to enhance its profile by signing up for the Point Inside Indoor Mobile Ad Platform to create ads that showcase special promotion, sale or event information.
• Brands within a mall-based retailer also have the ability to advertise special promotions (e.g. "Join us for a trunk show featuring the Spring 2010 Gucci collection at Nordstrom").