EP labels revolutionize source protection for apparel & other sector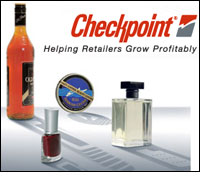 Checkpoint Systems Inc announced it has shipped more than 1.5 billion Enhanced Performance (EP) labels for retailers' electronic article surveillance (EAS) systems.

EP labels have quickly become the industry's label of choice for securing merchandise in ways never before possible. In 2009 alone, more than one billion Checkpoint EP labels were used by retailers of all types as the preferred weapon to fight shrink in a down economy.

Because they are smaller and thinner than traditional EAS labels, EP labels are able to protect smaller and previously difficult-to-secure items such as health and beauty aids without comprising branding and packaging. In this sense, EP labels are transforming the way retailers and manufacturers secure their products, and are improving shelf availability dramatically. With their smaller, thinner footprint, EP labels are integrated into the manufacturing process more easily, enabling source tagging of a much wider range of products. Therefore, more products arrive in stores with security labels already in place, and store labor costs are reduced.

EP labels have also been tested by TUV Rheinland, an independent, global organization that documents the safety and quality of new and existing products, systems and services. TUV found that EP labels enable Electronic Article Surveillance (EAS) systems to provide better detection compared to larger labels using standard technology. When the performance of EP labels is combined with Checkpoint's EVOLVE EAS System, retailers can realize additional significant benefits. For instance, by using EVOLVE antennas and replacing standard 710 labels with 710 EP labels, retailers can achieve up to 60 percent better detection and up to 30 percent wider aisle widths. This increased detection results in fewer losses due to theft. TUV also found that EP labels offer greater EAS alarm reliability and accuracy.

"When Checkpoint introduced this breakthrough technology, we delivered a quantum leap in detection and deactivation levels in EAS tags," said Per Levin, Checkpoint Systems' Worldwide President, Shrink Management Systems. "Checkpoint's EP labels have truly revolutionized tag application at the point of manufacture and product protection in stores. We are proud to have created a product that has delivered a significant impact to the world's most successful retailers, including some of the largest drug store and apparel retailer chains."

For those products that store personnel must tag in stores, the smaller-sized labels can be placed on smaller products that pose a problem for traditional labels, such as lipsticks and small cosmetics, and will cover less packaging area than previous labels. Another important benefit of EP labels is that, unlike other competitive labels of lesser quality, they do not reactivate once the customer leaves the store.

Importantly, in accordance with Checkpoint's sustainability initiative to reduce energyconsumption and waste, the production process for EP labels uses less aluminum, less paper and less plastic than standard labels. By replacing standard labels with an EP label providing comparable performance, retailers can reduce waste material by up to 45 percent.