KangaROOS kicks off comeback with Volusion support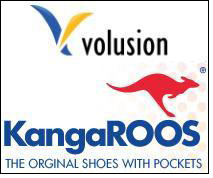 KangaROOS creator of sneakers with pockets popularized by Walter "Sweetness" Payton in the 80s, recently launched an ecommerce website with Volusion's award-winning shopping cart platform to make a wider selection of the vintage-style sneakers available for direct purchase by US consumers. After only three weeks of launching the online store, KangaROOS generated more revenue than its brick and mortar store attracted in three months. Additionally, web traffic has increased by 10 percent and first month's sales have increased by 75 percent week after week.

Prior to launching the ecommerce site, KangaROOS began engaging with customers through Facebook. This new interaction acts as a forum for the company to reunite fans with the brand they love, as well as provide insight into a previously untapped customer base. Loyal ROOS fans often ask to find special models they remember wearing as kids and the page helps ROOS connect with their nostalgic followers. After the launch of the new ROOS site, 10 percent of initial online sales resulted directly from Facebook.
The Challenge

Previously, KangaROOS shoes were only sold through the company's wholesale retail partners, including Zappos.com, DSW, Journeys and Finish Line, but the ROOS product selection was inherently limited by shelf space taken by larger competitors like Nike, Saucony and Puma.

Jared Carver, President of KangaROOS USA, wanted to offer customers a broader selection that was easy to find and browse, something that wasn't possible through wholesale partners.

After conducting market research and collecting anecdotes from store customers and people who contacted the company, Carver knew customer demand was not only out there, but pent up.

The company opened a pop-up storefront in Boston on Newbury Street, the highest-trafficked retail area in the city, to test-market a brick and mortar store, learn more about end consumers and drive incremental sales. The store was open for three months, and while the company was pleased with the results, there was concern about the high ongoing costs associated with operating a retail location. For this reason, the company decided to forego a lease extension and instead invest in an online store.

The Right Platform

The KangaROOS marketing team investigated developing an ecommerce site through traditional agencies, but costs were in the six figure range. After extensive research, they found Volusion's reasonable price structure, scalability, integration with social networking tools and customer service keys for their business model.

Volusion offered the following features and benefits that were critical to the success of the project:

• Customer Service – 24x7 customer service allowed the marketing team to call for help at any time of day.
• Social Store Builder and AddThis Integration – Enables ROOS to sell shoes on Facebook as well as share products across hundreds of social media networks and news sources.