Cowan, Liebowitz & Latman to host Complimentary Fashion Program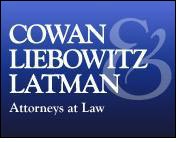 Cowan, Liebowitz & Latman, P.C. announced that it will be hosting its sixth annual Fashion Industry Program. The Program is called "Fashion 2.0—Social Media, Virtual Worlds . . . and the Real World, too" and will be held on Wednesday, June 16, 2010 at the Harvard Club of New York City, 35 West 44th Street. Continental breakfast will be available from 8:00 a.m. The program will run from 9:00 to 10:45 a.m. followed by informal socializing.

The speakers will be Kieran Doyle, C. J. Erickson and Joel Karni Schmidt, all partners in the firm, plus guest speaker Barbara Zaccone of BZA, LLC. Their presentation will cover social media marketing, virtual world IP issues and opportunities, cross-border on-line retail issues and recent fashion industry cases. Each presentation will be directed specifically to the fashion industry, and will be short enough to allow for questions and interaction.

Cowan Liebowitz is recognized worldwide as a leading intellectual property and litigation firm which has clients ranging from start-ups to some of the world's leading fashion companies. William M. Borchard, the head of Cowan Liebowitz's Intellectual Property practice, will be the moderator. He said, "No fashion company can afford to ignore the challenges and opportunities offered by today's technology. This program is designed to inform and guide retailers, importers, designers, marketing executives, attorneys and educators as to the legal and business issues of the new direct marketing spaces."

The Fashion Program is open to members of the fashion industry, manufacturing executives, importers, retailers, attorneys, educators and designers.

Cowan, Liebowitz & Latman P.C.