Lectra partners with College of Textiles at NC State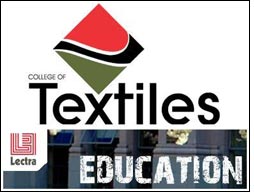 Lectra, the world leader in integrated technology solutions for industries that use soft materials textiles, leather, industrial fabrics and composites announced that the College of Textiles at North Carolina State University (NCSU), one of the premier textile programs in the world, has implemented Lectra's Vector automated cutting solution.

This new advanced cutting solution will prepare their textile students for careers in the apparel industry and will bring industry professionals to the University Lab, enhancing NC State's leadership position in textile education.

NC State University College of Textiles is the largest institution of its type in the United States. The programs of study range from traditional design and manufacturing to color science, medical textiles, nonwovens, marketing and supply chain management. More than half of the textile graduates in the U.S. come from NC State University. Many of these students are placed in management level or higher positions within companies.

"Most recently, our Fashion and Textile Management program has continued to grow in student numbers at both the undergraduate and graduate levels, which increases the pressure for our faculty members to train and better prepare those students on the latest technology solutions," stated Nancy Cassill, Professor and Department Head of Textile and Apparel Technology and Management, College of Textiles.

"Throughout all our courses, students are required to create, develop and produce a portion of their fashion creations. As a result, there's been an increased demand for an accurate and high-speed cutting system to handle a wide range of fabrics to complete the process."

The implementation of the Lectra Vector advanced cutting solution will bring the whole process to life by allowing collaboration among students. Fashion design students will be able to team up with textile designers, who understand fabric architecture. Together, they will be able to develop more complex patterns and interface with Kaledo, Modaris, Diamino and Gallery, Lectra's added-value design, pattern-making, marker-making and collaborative product development management solutions already in place at the College, to learn and implement the entire fashion product development process.

Working in real-life professional conditions will allow College of Textiles students to be fully ready and more efficient when they start their careers. They will learn how to accelerate and optimize the process throughout the entire fashion development and production cycle. These are the two main issues currently facing fashion companies.

"Already, there is a lot of interest from both students and the fashion community in conducting projects to take advantage of our new Lectra Vector cutter," explains Trevor Little, Professor with the Textile and Apparel Technology and Management Department. "We are very excited to have our students begin working withthe cutter during the upcoming Fall Semester, and offer them an end-to-end training program that will prepare them for their future careers."