Bon-Ton boosts holiday purchases with IBM Software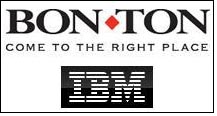 IBM announced that the Bon-Ton Stores Inc website has experienced a double-digit increase in sales using IBM software to advance its online and mobile commerce initiatives.

Bon-Ton Stores, Inc. and its seven brands -- Bon-Ton, Bergner's, Boston Store, Carson Pirie Scott, Elder-Beerman, Herberger's and Younkers, sell leading brands in apparel, cosmetics and home furnishings. These stores are using IBM WebSphere Commerce software to enhance customers' online shopping experience by proposing relevant products and automatically providing coupons and discounts based on customer preferences. For instance, when a shopper puts a sweater in their online shopping cart, Bon-Ton's new site is able to identify shoes, accessories and pants to complete the order. Loyal customers can receive coupons and discounts automatically during the checkout process.

This holiday season, online sales are outpacing all other retail sales channels. According to the third annual Cyber Monday Benchmark Report delivered by Coremetrics, an IBM company, online sales are up 19.4 percent with consumers pushing the average order value up from $180.03 to $194.89 for an increase of 8.3 percent.

Consequently, stores are using e-commerce technology to take advantage of online sales channels. Within a few months of launching, Bon-Ton's new online store became its top-selling location in several merchandise categories. This trend is expected to expand over the next twelve months.

Bon-Ton's new website is able to develop targeted marketing campaigns tailoring the shopping experience for specific customer segments using new media capabilities and mobile coupons. For instance, during this year's winter formal season, Bon-Ton is targeting teen shoppers across multiple sales channels. Teens can try on formal dresses in the store, receive a mobile coupon delivered to their smart phones, share photos of their favorite dresses with their family and friends via any social networking site and complete their purchases in the store or online.

While still in its infancy, mobile shopping is contributing to the growth of online sales. According to the third annual Coremetrics Black Friday Benchmark Report, 5.6 percent of people logged retailers' sites using a mobile device on Black Friday, representing a jump of 26. 7 percent compared to last year.

The same report reveals that during this holiday season consumers are viewing 18 percent fewer products on sites than they did last year, suggesting that shoppers have a specific item in mind and quickly moving on. Department store websites are the one exception. They have become the research engine of choice for consumers who are looking for holiday deals. As a consequence, shoppers are spending 17.7 percent more time year over year on department store sites.

"We see our new eCommerce capability as one of our most important growth initiatives. The growth in our customer's use of the Internet for finding product information and making purchases is a key driver behind making significant improvements to our websites," said Jimmy Mansker, Senior Vice President, Internet Marketing, The Bon-Ton Stores, Inc. "We are experiencing very favorable results using mobile coupons and online social networks. This is one step of many that we are taking to develop a richer online shopping experience."