Innovative deal offers a variety of New Revenue Streams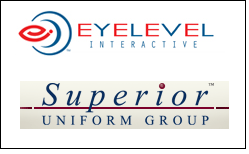 EYELEVEL INTERACTIVE LLC (EI), innovators of patented interactive media garment technology, and Superior Uniform Group Inc, one of America's largest and widely respected uniform manufacturers and providers, announced a strategic alliance that will make interactive uniform apparel available in thousands of businesses across the United States, including some of the nation's largest retail, drug, grocery and restaurant chains.

This licensing deal marks the introduction of EI's iPOPS (Interactive Point of Purchase System) into the marketplace with the revolutionary concept of interchangeable panels that include advertising and promotions directly applied to the front and/or the back of the employee uniform. iPOPS creates a paradigm shift that converts uniform expenses into revenue generating profit centers and in the process creates a new metric by which advertising is measured.

"As both the advertising and image apparel industries evolve with the introduction of new technologies and changing consumer demands, Superior Uniform Group is perfectly positioned, through our 90 year old uniform company's vast resources and our national relationships, to bring EYELEVEL INTERACTIVE'S vision for iPOPS to reality and directly to consumers," says Superior Uniform Group CEO Michael Benstock. "This timely execution of new media and technology has unlimited potential for our customers to target their specific audiences by being at the forefront of the most cutting edge marketing and advertising tool in the retail space."

The iPOPS on the uniforms will contain EYELEVEL INTERACTIVE's EI Tag technology which provides opportunities for marketers to reach consumers at the most crucial touch-point in the purchasing process -- in the store and at the point of purchase. An EI Tag is EYELEVEL INTERACTIVE'S proprietary branded MAC (mobile action code). EI Tag is a geometric, multi-colored, two-dimensional, specific matrix barcode, which holds data that becomes accessible when scanned by a wireless mobile device, such as an iPhone or Android.

The EI Tag captures data and provides trackable in-store promotions. It is capable of delivering immediate Use It Or Lose It coupons to consumers that may be instantly redeemed at checkout locations via the consumer's wireless mobile device. EI's iPOPS includes website analytics that allows Superior Uniform Group customers to monitor detailed statistics such as reach, and time spent viewing. EI and Superior Uniform Group envision this as an additional way for retailers and businesses to create consumer loyalty programs and employee incentive programs.

In traditional media terminology, the impact and reach of various advertising campaigns have been measured in Gross Impressions. "EI's new media solution provides a dramatically more accurate way of measuring market reach -- by basing its value on the number of 'transactions' and 'walk throughs,' diverting from the traditional impression model. EI Tags are found where digital age media and new mobile technology intersect. We call it Mediology," states Blair Enfield, EYELEVEL INTERACTVE co-founder and President.