SAP to help transform Ferragamo's existing IT landscape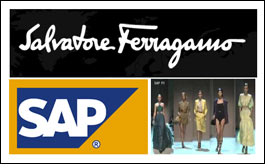 Italian luxury-goods maker Salvatore Ferragamo is in the fortunate position of facing increased demand for its products, particularly in Asia-Pacific. However, existing IT systems - primarily designed for limited local business - are struggling to support this level of regional growth.

In order to meet customer demand and position itself for further expansion, Ferragamo selected business software from SAP AG to bring cohesion to the company's information technology landscape.

Ferragamo aims to streamline its global business processes over the company's entire value chain, from back-office functions such as financials to the point of sales in its retail stores. The new system will enable Ferragamo to gain the insight to better understand its customers and business, the operational efficiency to drive profits and the adaptability to capitalize on the best opportunities to grow.

Founded in Florence in 1927, Ferragamo has extended its retail presence across Europe, North America and Asia with approximately 2,600 employees and more than 550 stores. Recently, the company's strongest growth has been in emerging markets in Asia, which now represent more than 50 percent of the its annual turnover. Ferragamo opened 10 new boutiques in China in 2010, bringing the total number of stores across China to 45.

The company was faced with the substantial challenge of creating standardized management processes for these new locations and bringing them in line with global operations. For example, without the proper insight and control, an unforeseen inconsistency in the supply chain could cause retail stores to run out of a popular item.

By harmonizing its global business processes on one integrated IT platform from SAP, Salvatore Ferragamo obtains a single source of truth, with consistent data across all business operations, from the supplier to the customer in the store. This will help the luxury goods maker to consistently make business decisions based on the latest and most accurate information, thus helping ensure that the right product is available at the right time and offered via multiple channels, where the need is greatest.

"In the highly competitive marketplace of international luxury goods, we are determined to distinguish ourselves with an unfailing commitment to quality and service," said Michele Norsa, CEO, Salvatore Ferragamo.

"To meet that commitment, we must have complete and dependable insight across all our business processes, from our headquarters in Italy to our boutique shops in China. SAP is a global information technology provider able to meet our needs for seamless functional capabilities, centralized architecture and multinational support. This implementation will provide us with one standardized system that brings cohesion to our global operations, and helps us ensure we continue to meet the high quality of service our customers have come to expect."

Software from the SAP for Retail solution portfolio will help transform Ferragamo's existing IT landscape, providing centralized control for stock management and distribution - from stand-alone shops to goods available for purchase online. The SAP NetWeaver Process Integration offering will help the company connect its legacy systems with the new SAP solutions, allowing for a reliable exchange of processes and information across distributed business applications and geographies.