Hanes Imagewear introduces innovative technology with smart phone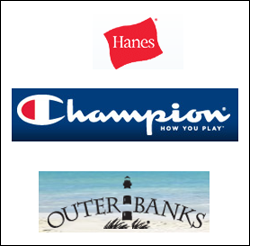 Hanes Imagewear, a leader in the screenprint and decorated apparel industry, introduced a series of innovative technology tools offering a wide range of professional selling options that will enhance convenience, customization and efficiency.

Hanes Imagewear is launching content websites accessible by smart phones and other mobile communications devices for all three of its signature brands, Hanes, Champion and Outer Banks; is increasing the number of unique online marketing tools; and is introducing an iPad app for its 2011 product catalogs.

"At Hanes, our goal is to make the world a more comfortable place and, in this instance, to make the world a more comfortable place to do business," explains John Marsh, senior vice president/general manager of Hanes Imagewear. "These new technology tools will make our customers' work days more comfortable, more convenient and more effective, at no added cost."

All three Hanes Imagewear brands, Hanes, Champion and Outer Banks, now have mobile sites for smart phones, including Blackberry, iPhone and Android, as well as other mobile devices.

Through the mobile sites, customers will be able to quickly and easily access the full brand catalogs and locate products by style or color with product locators. When customers go to the brand websites www.haneslocator.com, www.championlocator.com and www.outerbankslocator.com using their mobile device, the sites will auto-detect the device type and deliver appropriate content. Within seconds customers can locate wholesale inventory of their favorite styles and colors, and with one quick tap can even call to place their order. As an added bonus, smart phone users will be able to set up an icon on their desktop for easier access.

"So little business is done these days in a traditional office environment," says Marsh. "When you are in between appointments, you don't always have easy access to your computer. Or when you are in a meeting with your client, you sometimes need product details immediately. Now you can access key data at your fingertips in seconds. It's all about making business easier for our customers."

This month, Hanes Imagewear will launch iPad apps for the 2011 Hanes, Champion and Outer Banks catalogs. These apps will allow iPad users quick and easy access to digital versions of the printed catalogs. Customers can flip through pages, search by key word, and access wholesaler inventory through product locators.

Hanes Imagewear takes the term "Marketing Assistant" to a new level with its dedicated on-line toolkit with functions to increase sales. The Build Your Own Sell Sheets function provides the tools to create professional high-quality customized sell sheets to print from any desktop. Numerous templates can be customized by inserting company logos and contact information, selecting product features, and targeting key messages to specific clients.

The Custom Websites function provides a customized web-based Hanes Imagewear Catalog Service for promotional-products distributors and embellishers. The site allows for customization — such as company logo, contact information, selected product offering — and allows the user to add additional pages. Hanes Imagewear provides maintenance, and the website and service is free of charge.