Infor will acquire Lawson Software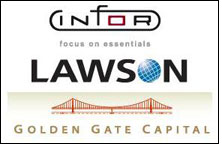 Lawson Software Inc announced that it has signed a definitive agreement to be acquired by GGC Software Holdings, Inc., an affiliate of Golden Gate Capital and Infor, in a transaction valued at approximately $2 billion. Under the terms of the merger agreement, stockholders of Lawson will receive $11.25 per share in cash. Lawson's board of directors unanimously approved the transaction and board members who collectively own approximately 9% of Lawson's outstanding shares have agreed to vote their shares in favor of the transaction.

Announcement marks the culmination of the company's evaluation of strategic alternatives and review and negotiation of a proposal from Golden Gate and Infor that began prior to, and was later publicly confirmed in a press release on, March 11, 2011. During its evaluation, Lawson conducted a comprehensive market assessment and contacted other potential acquirers including competing global providers of enterprise applications and financial buyers, a process that did not result in a superior proposal. Following a thorough review and analysis of the strategic alternatives available to the company, Lawson's board determined that this merger transaction is in the best interests of stockholders.

The transaction purchase price represents a valuation of approximately 2.5 times revenues, 12 times non-GAAP EBITDA and 23 times non-GAAP earnings per diluted share for the 12 months ended February 28, 2011. The $11.25 per share cash consideration represents a premium of approximately 14% to Lawson's closing share price on March 7, 2011, the last trading day prior to news reports speculating about a potential transaction involving the company, and a premium of approximately 35% to Lawson's average closing share price for the 52-week period prior to March 7, 2011. In addition, the purchase price represents a premium of approximately 28% to Lawson's closing share price on January 10, 2011, the date prior to Lawson entering into a non-disclosure agreement with Infor.

"We are pleased to have entered into a transaction that will offer Lawson stockholders an attractive valuation," said Harry Debes, Lawson's president and chief executive officer. "After a thorough examination of the strategic alternatives available to the company as well as extensive discussions with Golden Gate and Infor, Lawson's board unanimously concluded that this transaction is in the best interests of the company and our stockholders."

"On behalf of Lawson's board and management team, I would like to express our deep appreciation to our employees, whose passion and dedication have been key factors in making Lawson the great company it is today. We are also grateful to our customers and partners who have been instrumental in Lawson's growth and development over the years. We look forward to working closely with the Golden Gate and Infor teams to ensure a smooth transition and complete the transaction as expeditiously as possible," continued Mr. Debes.