Devanlay deploys CA Service Automation software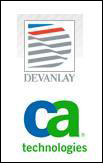 CA Technologies announced that Devanlay, the license holder for the manufacture of Lacoste branded textile products and accessories, is using two CA Service Automation solutions to optimize global production planning. CA Workload Automation manages Devanlay's scheduling of workloads in the production planning process. More recently, Devanlay implemented CA Process Automation to automate IT processes, removing the need to use manual scripts.

From the production of the first Lacoste Polo shirt in 1933, Devanlay has grown into a global business with operations spanning Europe, US and Asia. Devanlay has also diversified from pure textile production, and is now also responsible for global product distribution and marketing which has had significant impact on their IT infrastructure.

Laurent Caroujat, Head of Planning in Devanlay's Information Systems Department explained, "Previously production planning was carried out by one employee for each business and was fragmented. The globalization of our business has had a significant impact on production and operations across the entire supply chain. Trying to support just-in-time production and fulfillment of orders, forced us to rethink how we plan as a business and more generally about how our IS support that."

Devanlay required a planning solution that could schedule event-based workloads across a heterogeneous infrastructure in an easy-to-use tool that provides self-service for non-IT personnel. The solution also needed to be deployed fast and had to be scalable to meet the evolving demands of Devanlay's global expansion.

Devanlay researched and compared several solutions but opted for CA Workload Automation. CA Workload Automation was implemented in less than two months with no disruption to business. Six hundred planning jobs were migrated to the new system which now manages over 2,800.

"CA Workload Automation's ease-of-use and speed of deployment convinced us that it would be the best solution for us," says Laurent Caroujat. "It is an extremely effective planning tool which has enabled us to manage event planning efficiently. Because CA Workload Automation was quick and easy to deploy, we quickly established our e-commerce business and were technically operational within a matter of days."

Laurent Caroujat concludes, "Our planning process has evolved considerably in recent years. From locally-based, ad-hoc planning, we have moved to a permanent global schedule using CA Workload Automation. We are now ready to meet the new company objectives such as the launch in 2011 of Lacoste leather goods."

In the wake of the success of this initial project, Devanlay recently implemented CA Process Automation. The solution automates IT processes such as responding to common requests with the correct email attachment, a process previously performed manually by the IT department. Using CA Process Automation's Microsoft® Exchange connector, the entire process is automated and monitored, and no longer requires any manual intervention.