Fashion industry gets hands-on with Xbox-based technology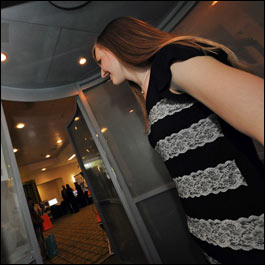 Nearly 200 fashion retailers, e-tailers and brands were the given the opportunity to use a prototype of the world's first 3D body scanner developed specifically for consumers to use in the home or within retail outlets. The revolutionary NX-16 scanner prototype from [TC]2, which has its global launch in the US later this year, was unveiled at the ASBCI's two day interactive sizing and fashion technology workshop and seminar held recently at the Leicester Tigers, Welford Road Stadium.

With an extremely small footprint the portable NX-16 3D white-light body scanner will work in conjunction with Microsoft's Kinect Xbox games consul. It will allow consumers to scan their bodies in the comfort and privacy of their own home, generate a personalised 3D Avatar, import their facial image from a digital photo onto the Avatar, and then select fashion styles to dress and 'try on' in a virtual world. The NX-16 has huge implications for buying clothes on-line and could be used in retail outlets to help customers shop virtually before final trying and buying.

In addition to the NX1-16 delegates from the UK's leading fashion groups including ASOS.com, Boden, Burberry, Burtons and BHS menswear, Dorothy Perkins, George, Joules, Marks & Spencer, Monsoon, Mothercare, Next, Topman, Topshop and Peacocks were able to step into Alvanon's Intellifit 3D radio wave body measurement scanner and Human Solution's laser scanner.

By seeing the data generated by the scans they saw first hand how 3D technologies are playing a crucial role in helping the fashion supply chain design and manufacture clothes based on 'real' consumer shape.

In addition to the 3D scanners visitors also made the most of their opportunity to use and learn about the other fashion technologies at the workshop. These included apparel fit expert Alvanon's new EU standard AlvaForm technical mannequins that will increase fit matches by more than 57 per cent. Sizemic was also showing its latest technical fit forms based on the data generated from the renowned Size UK research while anthropometric mannequin specialist CAD Modeling Ergonomics was encouraging visitors to try its new Soft Formax, a soft female torso built in a special washable and pinable material with detachable cup sized breast moulds for testing beachwear and lingerie.

Assyst Bullmer with its partner Human Solutions invited visitors to get hands-on with their powerful integrated body simulation and body dimension analysis solutions including the recently launched on-line iSize global shape identification and analysis solution that creates geo-consumer target groups and size charts. Lectra UK Limited also encouraged visitors to see how integrating the entire product lifecycle can bring garments to market faster and more cost efficiently. It let visitors create a virtual environment populated by shape-based Avatars, in which they designed garment prototypes with virtual draping, generated and graded patterns and estimated costs.