Apparel e-retailer gets benefit from SLI's site search solution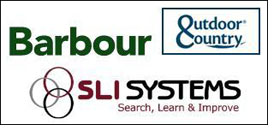 SLI Systems announced that Barbour By Mail, the online retail site for one of the Queen's favourite clothing brands, Barbour casual clothing, has improved the accuracy of its site search results with SLI's full-service site search solution, resulting in a more than 116% increase in its conversion rate. With SLI's unique site search solution in place, Barbour By Mail is seeing an 84% increase in average page views per visit and a higher average order value among people who use the site search.

The Outdoor and Country Store, the parent website of Barbour By Mail, is a UK-based multi-channel retailer of brand-name outdoor and sports clothing and accessories, and also operates two UK retail stores. The two sites implemented SLI's search solution in late 2010 to replace their previous site search, which was a standard feature of its e-commerce platform.

Learning Search is part of SLI Systems' full-service, customized site search, navigation and merchandising offerings. The solutions help online retailers like Barbour By Mail and The Outdoor and Country Store meet customer expectations for relevant results and information, as well as promote particular products and brands, all based on previous visitors' search and click-through activity. The solutions are dynamic, so results change as customer buying trends and search terms shift. Additionally, SLI's offerings are backed by the company's team of search and navigation experts, who oversee deployment of Learning Search and provide ongoing management and support.

Barbour By Mail and The Outdoor and Country Store sought a new site search solution to both improve relevance of results and drive more sales. "The amount of sales we would see coming through the search were very small, and we wanted to increase that number with a more sophisticated, customer-friendly site search solution," said Dominic Eves, operations manager for Barbour By Mail and The Outdoor and Country Store.

Since implementing site search from SLI, the average time spent on the Barbour By Mail site for visitors using search is more than double that of visitors who don't use search. Transactions involving site search now account for approximately 15% of total transactions on the Barbour By Mail site, a number that is still increasing.

With SLI's Learning Search in place, Barbour By Mail visitors that type varied phrases in the search box will see relevant results, as Learning Search accounts for misspellings and synonyms -- something the company's previous static SQL search could not do.

"Our former site search solution was very rigid, and would only return results that exactly matched a search phrase -- for instance, a search for 'coat' would exclude results for products with 'jacket' in their descriptions," said Eves. "Customers would often receive poor results or no results from a search, and then would call our customer service department because they were unable to find the productthey wanted. With SLI on our site, shoppers now see relevant results even when they don't enter a precise search term -- and calls to our customer service team have dropped significantly.