It is well-known that silk apparel is delicate to laundering and demands scientific approach, appropriate procedure and techniques. Deviation due to ignorance/negligence often leads to loss in aesthetic and functional significance of a silk apparel product, and ultimately results in consumer dissatisfaction. The author attempts to address these issues with the help of a case study and recommends an ideal wash care method for silk.
Textiles get soiled by normal use whether these are made of natural or synthetic fibres. Built-up dirt can get ground deep into the fabric, making stains difficult to remove and can even damage the fabric. Rubbing causes the stain to move deeper into the fabric that may be difficult to remove. Further, the heat in the dryer may permanently set the stain in a fabric.
Chlorine bleaching should be avoided which may damage high performance products made from spandex. Fabrics, linings or insulations could shrink or otherwise may get damaged due to high temperature or leaving them in the dryer for long. Apparels made from fibres such as acrylic, nylon, polyester, and polyolefin dry quickly. In fact, polyolefin may melt at high temperature in the dryer. The care aspects vary depending on the fibre content, finish, lining, insulation, trims, and embellishments on the garment.
In view of supra, consumers should select the correct techniques to restore the attributes of the textiles. In order to help the consumers get acquainted about clothing care, care labelling rule requires manufacturers and importers of apparel and certain piece goods to provide necessary care label instructions giving the consumer accurate care information to extend the useful life of garments. These labels must be permanently attached, and remain legible for the life of the garment. Sometimes, symbols may be used in conjunction with words, but will not by themselves satisfy the requirements explicitly.
Care Labels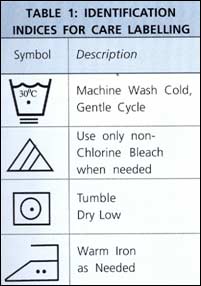 Care labels often are the deciding factors when consumers shop for clothing. While some of them opt for the convenience of dry-cleaning, others prefer the economy of buying garments which they can wash. Some manufacturers try to reach both the markets with garments that can be cleaned by either method. The care label rule allows providing more than one set of care instructions, if a reasonable basis for each instruction set exists.
Though there is relaxation in using only temporary labels for products such as totally reversible clothing without pockets and products that may be washed, bleached, dried, ironed, or dry-cleaned by the harshest procedures available; interestingly, no care instruction is required for some of the products sold to institutional buyers for commercial use, and products that are completely washable.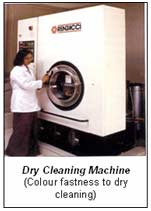 Care label rule requires that manufacturers and importers of textile wearing apparel have a reasonable basis and reliable evidence in support of care instruction. That is why different verification tests are involved while determining the care label of a textile product. For instance, washing, bleaching, drying, ironing, dry-cleaning are the major processes associated before final recommendation. Typical example of a popular export oriented garment variety such as 100% cotton single jersey T-shirt is depicted in Table 1.
If a garment shrinks more than 3%, the fit property would be obviously disliked by the consumer. Similarly, when apparel is washed and change in colour of the body or staining of colour on different parts is noticed, the aesthetic value gets diminished. In such cases, dry-cleaning is highly recommended which delays perceivable relaxation shrinkage and inhibits colour loss during a garment's life cycle. This, in turn, ensures consumer satisfaction.