Women's clothing was 'form fitting'. A unique and refined fashion, delicate and choosy for an even and slim female figure was in vogue. In the Old Kingdom, women wore long skirts with fringed robes and pleats which was wrapped around their waists, pulled over their shoulders and secured under their chest with a knot. In the period of New Kingdom, fashion for women changed by the usage of colorful linen in their clothes. Their simple tube dresses were adorned by elaborate pleated and fringed robe worn over the dress. Women wore long robes parted in the middle to expose their legs. Wealthy women decorated their garments with embroidery, sequins, feathers, and rosettes. Wealthier the class, more transparent their dress were.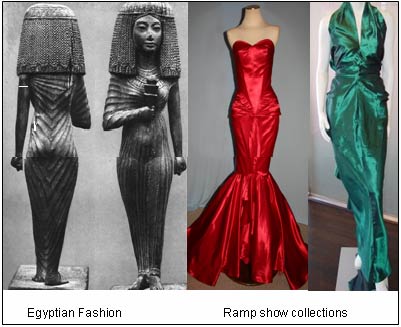 Tight tunic with braces
Cleopatra VII, the Egyptian fashion icon was regarded as the most seductive women in all human history. Among all Egyptian women, the infamous Nile Queen was pretty well aware of how to take the classic Egyptian fashion to its next level so as to best enhance her features. She took utmost care in her clothing and in the way she deported herself. Her clothing style had, and is still capturing the imaginations of countless artists and fashion designers. Her outfit consists of a long and tight tunic in fine, delicate material held tight with a belt, or with braces. A thin shawl flows over the shoulder and is tucked into her belt. Alluring colors of red, green, dark moss green with yellow stripes were used. Historical costumes of Cleopatra are very popular, and are an inspiration for many reputed fashion designers in designing their collections.

It is a universal fact that fashion designers of the modern day get their inspiration from the past. Egyptian fashion is an apt example of this. Visualizing the Egyptian era, and comparing it with the modern fashion, one may see many similarities.