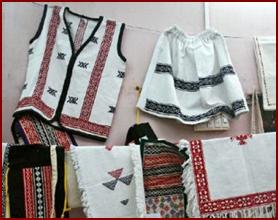 The various facts of this embroidery are-
Fabric Used- Cotton fabric is used to do toda embroidery. The fabric should be loosely woven because the embroidery is done by counting the weaves.
Colours-Colour of the ground fabric is off- white. The colours of the threads are red and black.
Motifs- Basically all the traditional embroidery inspiration is taken from nature, day to day life activities, mythological stories and reflects the colours of flaura and fauna of that particular region. The embroidery of the particular region tells the story of the particular region. In this case also the motifs are inspired from local surrounding. Buffalo horn is the most important motif because the tribals worship buffalo. Other motifs used are Izhadvinpuguti, which is a motif named after their priest, mettvi kanpugur is a box. Sun, Moon, stars, flowers, snakes and rabbit are the other motifs.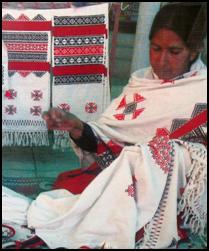 Along with the famous toda shawls various other items made from this embroidery are traditional drapes, puthukulis, dupattas and Table cloth, stoles, kurtis, pyjamas, skirts, pants, salwar-kurta etc.
To sum up embroidery is basically an expression of beauty, aesthetics which an artist portrays with a needle and thread. This tribal embroidery of Tamil Nadu is very distinctive and it should be preserved as this embroidery is dyeing. We should use this embroidery in different articles as purse, pouches and retail it in International and national market. In this way we can revive and save the rich cultural heritage India.
References
http://summersofindia

www.ootyhandicrafts.com

Shrikant, Usha-Designs For Lifetime

Shrikant, Usha-Ethnic Embroidery of India

Naik, D. Shailja- Traditional Embroideries of India
Image Courtesy
http://www.hindu.com/mp/2007/07/16/images/2007071650270301.jpg

http://img100.imageshack.us/i/pib4todawomandoingembro.jpg/
The author is a Research Scholar and Senior Faculty at Satyam Fashion Institute