All of the examples shown in this article are embroidered with silk threads and derive from both Croatia proper and Slavonia. They are all embroidered pieces used to decorate women's caps. These caps were status objects as they were used as a symbol of adult womanhood and were given after a wedding ceremony. They were then worn to denote a new stage in a woman's life.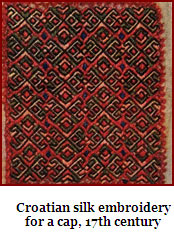 The pattern work in all the pieces does show a remarkable similarity to carpet design work particularly that of Turkish origin. It has to be remembered that much of the weaving that took place in Croatia and Slavonia during and after the period of the Turkish Empire, was that of carpet weaving. Even though Croatia proper was under Turkish occupation for much less time than other areas of the Balkans including Slavonia, it was always on the border of the Turkish Empire and would have been strongly influenced by the culture of carpet weaving that was widespread throughout the Balkans during the Turkish occupation.
As with all craft disciplines and particularly when concerned with the often complex patchwork of cultures and peoples that make up the Balkans, the subject of Croatian embroidery can only ever be an introduction. Future articles will take a much more detailed look at much smaller and distinctive areas and regions of both Croatia and the Balkans in general.
Originally published in The Textile Blog by John Hopper