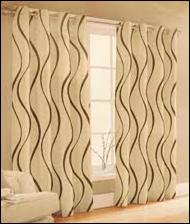 Curtains are a form of window and door treatment and these complement the overall appearance of the house. So selection of curtains/curtain materials is very important for home and these are affected by number of factors. An attempt was made through this study to find out the selection practices and the factors responsible for the purchase of curtains and its material. Data was collected through self structured interview schedule from the respondents that are the ultimate users. Among the factors for selection of curtains/curtain materials, 'Fabric designs/ motifs i.e. stylized, floral, traditional' ranked at first place followed by 'colour'. All the other criterias like cost, trendy, type of material, type of fabric, purpose were preferred for selection of curtains/curtain materials with close margins.
Introduction:
Curtains are known as a drape or drapery hung on the inside of house windows and doors to block the travel of light, for privacy, and to decorate the home. Curtains are the traditional way of dressing windows and doors. Technology needs to innovate to support new design trends and designers aspirations. The approach will help to faster innovation in our products and create a competitive edge in the global market place (Katiyar, 2001). Customer demand calls for value addition, diversified product and also technology refinement and innovation to ensure the demand both in the domestic and export market. Innovations in materials, processing with colors for shades and prints, finishing for aesthetics and functional effects, designs, publicity and display are key elements for growth and successful marketing of home textiles (Patel, 2007).
Thus, there was a strong need to know about the factors affecting the selection of curtains/curtain materials for home use in order to develop new beautiful products which increase the aesthetic look of curtains or enhance the quality product and people acceptance regarding the product.
Technical Plan:
A well structured interview schedule was developed to get the opinion on existing use on practice of curtains and factors affecting the selection of curtains/curtain materials for home use. Thirty respondents were selected having knowledge about design and fashion. The responses regarding the fabric design, colour, fabric type, fashion, cost, designing features were studied.
Result and Discussions:
The data pertaining to existing practices of curtains and factors affecting the purchase of curtains and curtain materials has been discussed in table 1 and 2 (Fig.1 and 2).
Regarding the personal profile of the respondents, it was found that majority of the respondents were between the age group of 31-50 years, were graduate, house wife and from service class and their family monthly income falls between Rs 20,001-40,000.