Dr. Darlie Koshy's pioneering contributions to fashion and design education over the last quarter of a century has been well acknowledged by academia, industry and policymakers alike. A Doctorate in Management from IIT Delhi and an MBA from CUSAT, Koshy has been also trained at FIT New York in Fashion Marketing & Merchandising. As Founding Chairperson of Fashion Management Studies at NIFT, New Delhi after the successful stint of a decade as a top manager in the textiles-handloom sector, Koshy built a strong industry interface and thought leadership for NIFT from 1988 till 2000, when he was appointed Director of National Institute of Design (NID), Ahmadabad. As a researcher and academic leader, Koshy's pioneering books on international marketing of apparel are highly regarded by the textiles industry and academia. His 'Indian Design Edge' traces the evolution of Indian design while arguing for a design-enabled India. Here he builds a case for "design in India".
The 'apparel', 'clothing', 'garment', 'fashion' and 'lifestyle' industries have undergone two significant changes since the beginning of the new century. With the dismantling of quotas since 2005, exporters of apparel are free from restrictions of quotas and only competitiveness through 'scale', 'quality' and 'innovation' matter now. The other change that happened around the same time was the rapid growth of the domestic fashion retail industry with recent exponential expansion of e-tailing/m-commerce/omni-channels, etc. Building competitiveness of the apparel industry is the biggest challenge in the context of immense competition from Bangladesh, Sri Lanka, Cambodia, Vietnam, etc. The local domestic garment industry has a CAGR of 15-18 per cent per annum and the apparel exports around 8-10 per cent. The fashion/design education curricula, therefore, need to be industry-led and capable of "leading industry" as well.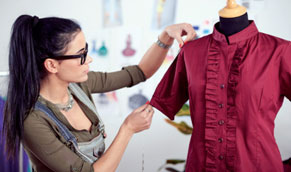 <![endif]>The curricula for fashion need to turn to focused attention on "fashion business" from just extreme focus only on 'design'. World over the word 'management' is giving way to the more old-fashioned 'business' with focus on individual 'entrepreneurship' made possible through advancement in digital/ sensor technologies. As Western management experts say, everything will revolve around 'algorithm, digitisation, sensors' and 'customer connect through social and other media' with "more one-to-one" than mass-marketing". Fashion is becoming like pizzas with base of fabrics, 3D patterns, silhouettes with select 'topping' of what changes often round the year, colours, styling details, fashion features, etc. The 'Zarafication' of fashion and 'instant gratification' through m-commerce is delivering fashion like pizzas at your doorstep often in less than 6-8 hours. Big data analytics, numeric and fashion need to be now combined in the new age curricula for "business of fashion".
The education system and the loopholes therein
The All-India Council for Technical Education (AICTE)'s pre-conditions and norms for niche institutions in de novo and creativity focused areas like fashion and lifestyle, including for 'design' related programmes, are obsolete and need to be recast. The Ministry of Textiles in its 12th Five Year Plan Sub-Committee report had said that AICTE and the University Grant's Commission (UGC) have not paid any attention to envisage and nurture 'fashion' related education programmes both at UG/ PG levels and, therefore, recommended the setting up of a 'Fashion & Textile Education Council' to take care of all fashion institutes and their programmes. Despite the 12th FYP already being in its last two years, there has been no progress on the part of ministry in this regard.