The Union Budget 2017-18 was presented by finance minister Arun Jaitley on February 1, 2017 in Parliament-the fourth presented by the Narendra Modi government. The Indian textiles and apparel industry has measured this as a growth-oriented budget. AMarket Intelligence-Fibre2Fashion analysis.
Many positive steps have been taken by the Indian government which are growth-oriented for many industries, including the textiles and apparel industry.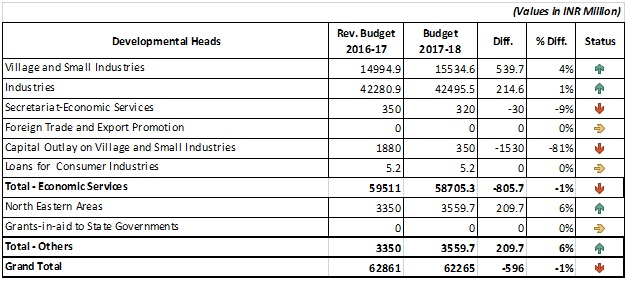 The following are the key points that influence the development of this sector:
The government has set up a committee to double farmers' income by 2022.

Rural India has been given high priority. The government has set a goal to take 1 crore households out of the poverty line by 2019 by providing housing and allocating till date the highest fund allocation to the Mahatma Gandhi National Rural Employment Guarantee Act (MGNREGA), the rural job scheme.

The government has doubled the lending target to Rs2.44 lakh for the Micro Units Development & Refinance Agency Ltd. (MUDRA). Under this scheme, around 70 per cent of beneficiaries are women, recognising the business ability of women.

The government will establish 100 international skill centres for skill development of youth.

To make travel and transportation hassle-free, the government will integrate road, rail and ship networks to provide an end-to-end solution with infrastructure development schemes.

Corporate income tax has been reduced by 5 per cent for the micro, small and medium enterprises (MSME) industrial units with turnover up to Rs50 crore.

An additional budget allocation has been made for NPA (non-performing assets) accounts of banks, and for promoting cashless transactions.

To attract more foreign investment and development of industry, the government has relaxed the rules of foreign direct investment (FDI). The Foreign Investment Promotion Board (FIPB) will be disbanded, which will also be beneficial for industry. This step of the government will ensure the entry of lots of foreign funds into the e-commerce start-up arena too.