Successful completion of tender offer for Volcom, PPR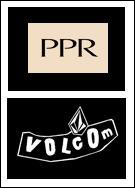 PPR S.A. and Volcom, Inc. jointly announced the successful completion of PPR's tender offer by its wholly owned subsidiary, Transfer Holding, Inc., for all outstanding shares of common stock of Volcom for $24.50 per share in cash. The subsequent offering period for the tender offer expired at 5:30 p.m., New York City time, on Wednesday, June 22, 2011.

Computershare Trust Company, N.A., the depositary for the offer, advised that as of such time, a total of approximately 3,692,991 shares had been validly tendered into the subsequent offering period, which, when combined with those shares purchased in the initial offering period, represent approximately 87.4% of Volcom's issued and outstanding shares. All shares validly tendered have been accepted for payment, and payment for such shares has been or will promptly be made in accordance with the terms of the offer.

PPR, through its wholly owned subsidiary, plans to exercise the top-up option to purchase directly from Volcom an additional number of shares sufficient (when combined with the shares purchased in the tender offer) to obtain ownership of 90% of Volcom's outstanding shares.

PPR intends to complete its acquisition of the remaining shares of Volcom as soon as practicable through a short-form merger of Transfer Holding, Inc. with and into Volcom, with Volcom surviving as an indirect wholly owned subsidiary of PPR. In the short-form merger, any remaining Volcom shares (other than those held by PPR, Volcom or a subsidiary of PPR or Volcom, and any shareholders who validly exercise their appraisal rights in connection with the merger) will be exchanged for $24.50 per share in cash. Following the merger, shares of Volcom common stock will no longer be traded on the Nasdaq Stock Market.

"PPR's Sport & Lifestyle Group is well-positioned to develop in the promising segment of action sport, thanks to Volcom's outstanding brand with strong identity and unique heritage," François-Henri Pinault, Chairman and CEO of PPR, said. "Together with Volcom's senior management and teams, we will set out to take advantage of the synergies that will allow Volcom to reach a new stage in its development while keeping true to its values and customers. With Volcom, PPR is continuing its strategy of building a global Apparel and Accessories Group via iconic brands in both the Luxury Group and the Sport & Lifestyle Group."

Richard Woolcott, CEO of Volcom, stated: "This marks an important turning point in our Company's history, and I am very proud of what our team has accomplished thus far. With PPR, we now have the opportunity to further develop Volcom on a global level with the benefit of an entrepreneurial-minded, quality-driven and socially conscious partner. I am very excited about Volcom's future and look forward to working with PPR in the years ahead."

PPR S.A.