Gramicci to celebrate thirtieth birthday with G- Movement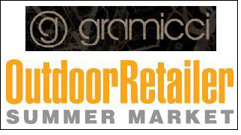 Gramicci, the renowned climbing and outdoor apparel Company, is celebrating its thirtieth birthday with the most technologically sophisticated clothing it has ever offered ­– G-Movement for men and women. This collection features the newest generation of performance fabrications as well as its sustainable NPT- Natural Performance Technology fabrics, a blending of the earths most durable and organically grown natural fibers designed for both high performance sports enthusiasts as well as consumers looking for distinct style.

Join Gramicci's for 30th year celebrations all week in Booth # 9000 Outdoor Retailer, SLC. Music, rhapsody, adult beverages and some epic pant/short tales to be told!

The new G-Movement Collection allows for more movement, better play and higher performance. It is active wear for "everywear": running, biking, hiking, trail running, yoga, cross training, and even travel. This is apparel that enhances every movement. Whether you are in yoga class, sweating through a workout, pushing yourself on a trail run or taking your child to school – G-Movement is the perfect contemporary product. Get ready to see the next generation Gramicci ­­– built to help you get out and get moving.

G-Movement apparel meshes high technology fabrics that feel soft like cotton but offer superior performance. Features include 4-way stretch-ability, moisture-management properties and UV protection. These high impact fabrics are the latest in moisture wicking technology, keeping the body temperature cool and the skin dry during and after exertion. The designs are unquestionably new, multi-functional and distinctively Gramicci.

The women's G-Movement collection introduces the Dream Fit in both legging and Capri cuts. Gramicci spent countless hours engineering a perfect fit for a variety of different body types. Garment construction has been meticulously designed to eliminate body chafing even during strenuous activity. The collection has smart color blocked tanks that perform great in the gym and also shine as flattering "everywear" fashion. The tanks and bra tops have sculpted racer-back carves to allow full range of movement. G-Movement also offers chic drape cover-ups and track jackets that work for the gym or out on date night.

Examples of these designs in women's and men's high-impact fabrics include Oriana, our signature women's fabric: breathable, cotton-feel, polyester/nylon blend, 4-way stretch providing support and allowing freedom of movement. Oriana delivers high performance comfort and moisture wicking, breathability stretch while also being perfect for street-wear. This line provides amazing shape retention only found in the very best active fabrications.

The Aria Jersey collection is also moisture-wicking and pre-shrunk, yet is made of a silky and light-as-air cotton/lycra blend. The wicking is inherent in the yarn, (no toxic chemically treated yarns) so it lasts for the life of the fabric - making it perfect for both demanding and relaxing activities.