Toray to present functional clothing systems at OutDoor show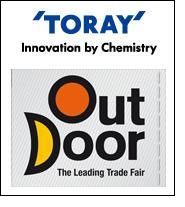 Impressive news from Toray: The company financial results just announced show above average growth for the company (revenues rose 13.2%). But that is not all: Toray is presenting two completely new products at the OutDoor Trade Fair, which promise to (r)evolutionize the market in functional sportswear yet again, held in Friedrichshafen, Germany from 14 to 17 July 2011.

Toray Industries Inc. (Toyko, Japan) closed the business year 2011 (3/31/2011) with above average sales. Toray Group achieved consolidated net sales of 18.5 billion USD (FY2010: 14.6 billion USD), which represents a gain of 13.2%.

The results reflect the combined efforts of long term partnerships with individual customer operations in various business segments. The continuous stream of innovative developments and products, backed especially by technological know-how in chemistry and polymer processing, played a major role in achieving these results. However, that is still not enough for Toray Group. Toray Group is presenting a total of four highlighted topics, including two brand new products that will certainly (r)evolutionize the active sportswear market.

Innovations:
At OutDoor 2011, Toray is concentrating on company know-how in order to highlight 4 brand new and innovative products. In this context, the textile and clothing manufacturer can be seen as a specialist and innovation leader for all categories of functional clothing systems – from the skin (base layer) to the outermost layer (exterior shell).

WITH IT Soft Compression - Wearing comfort like never before
The topic everyone in sports is talking is compression. But it is not for everyone. In the past, the implementation of compression for tops and pants included several disadvantages. Uncomfortable, tight, unnatural feeling, and limited freedom of movement - these are the words used in the past by comfort-oriented sports enthusiasts when rejecting compression (source: BISp-Expertise "High-tech fabrics for high performance sports," Nusser M. et al 2009). Only top level athletes have accepted these comfort restrictions in order to enjoy their performance-enhancing effects.

Those days are finally over! Toray has developed a totally new fabric with the name WITHIT Soft Compression. To do this, they had to build their own new type of modern knitting machines.

What makes it special: The material has a 360°-stretch with equal elasticity in both length and width. This provides support for the musculature during movement and reduces muscle vibration – that restrictive feeling is a thing of the past! Additional advantages are a much better restoring force than with other compression garments, excellent moisture management, built-in UV-protection 50+ and, of course, a terrific natural feeling on the skin. WITHIT Soft Compression provides maximum comfort, in a way that was unimaginable before from compression!

Initial studies from Japan have confirmed that WITHIT Soft Compression is highly effective. A study, in cooperation with a spin-off company of the Technical University of Munich, is currently ongoing which has similarly returned outstanding interim results.