JUNKS Tokyo/Japan to launch Rock and Roll line at PROJECT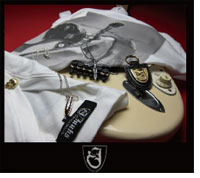 Japanese luxury brand JUNKS Tokyo/Japan introduces their premium clothing and accessories collection to a U.S. audience with the launch of their Spring/Summer 2012 collection. Inspired by Rock and Roll culture, JUNKS puts quality at the forefront and strives to merge eastern and western culture with their use of edgy interpretations of some of the world's most iconic and mythological figures, creating a bold and unique apparel line. The collection is set to debut at the PROJECT New York tradeshow July 17-19, 2011.

JUNKS Tokyo/Japan is an established brand in the Japanese market, recognized for its intricate detail and sophisticated design process. Designer, Takashi Endo, has perfected his craft using an unparalleled silkscreen technology that surpasses traditional silkscreen methods currently being used in the industry. His expertise has already proven successful in the U.S. market, as Endo has been the premier manufacturer in silkscreen technology for past and current brands such as Billionaire Boys Club and A Bathing Ape.

The superior level definition print graphics demonstrated in JUNKS apparel are complemented with equally premium level material and ink components. Each piece is custom tailored and flawlessly executed with the use of quality fabrics, premium cuts, and perfectly fit silhouettes. Endo insists what is seen and appreciated at first glance is to be amplified through inspection of details and touch.

"My creative process always places significance in balancing the components of each constructed piece," says Creative Designer Takashi Endo. "The search always begins with procuring the finest ingredients to perfect the recipe. I always take extreme care and patience in forming the ideal silhouette, selecting the finest made in Japan fabrics, materials and detail accents in an effort to deliver an enhanced display of the printed graphic art. Each component is combined in an ideal balance which helps elevate the whole garment."

The initial collection leverages superior Japanese produced combed cotton yarn and other woven fabrics that offer exquisite texture and feel. Through a rare process of "double alkali treatment," premium silkete fabrics are custom made to create a print canvas that possesses an amazing level of silky luster and sheen. Precision printing that highlights the definition of finely drawn artwork on such delicate and complicated surface is a scarce luxury to find in contemporary apparel. The visceral graphics released onto the fabric offer a fascinating three-dimensional experience that is nearly impossible to reproduce by the amateur hand. It is with this process that Endo has been able to elevate his craft and construct unimaginable levels of quality.

The collection includes a variety of men's and women's tee shirts, tanks, hoodies, and tops adorned with rock and roll imagery on premium cut body styles. The line also boasts a collection of seasonal outerwear includinglightweight cotton tailored jersey jackets embellished with original hand drawn Japanese motifs and custom washed vintage inspired denim button downs, which are adorned with dual pocket, brass skull button accents.