Retail sales up 49% at Burberry Group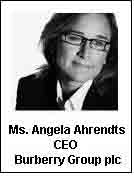 Burberry Group plc, the global luxury company, reports on trading for the three months to 30 June 2011.

Highlights

• Total revenue of £367m, up 34% underlying
• Double-digit growth in retail and wholesale, all regions and all product categories
• Retail revenue of £245m, up 49% underlying
o 15% comparable store sales growth (excluding China)
o Outerwear and large leather goods contributed nearly half of mainline growth
o Revenue growth of around 30% continued in acquired stores in China
• Wholesale revenue of £95m, up 11% underlying
o Up 19% underlying excluding China
o High teens % underlying growth now projected for H1 2011 excluding China
o New product strategies driving growth (men's tailoring and accessories, shoes and childrenswear)
• Licensing revenue of £27m, up 6% underlying, in line with guidance
• Further strategic and operational progress
o Five stores opened including Hong Kong, Sydney and Chennai
o Joint venture for five stores in Saudi Arabia now operational
o Investment plans on track in FY 2011/12, with focus on flagship openings and refurbishments in high profile locations
o Modest improvement in full year retail/wholesale operating margin planned; H1 margin down year-on-year reflecting weighting of revenue and costs, as previously guided

Angela Ahrendts, Chief Executive Officer, commented:

"We are pleased with Burberry's start to the year, with double-digit growth balanced across retail and wholesale and all regions and product categories. Our exceptional team continues to capitalise on our unique British and outerwear heritage, develop our global retail presence and employ innovative digital technology, specifically marketing to the younger luxury consumer.

While mindful of global macro challenges and increasingly tough comparatives in the balance of the year, we remain confident in our strategies and will continue to invest to drive profitable growth."

Retail

Retail sales in the first quarter increased by 49% on an underlying basis (up 44% at reported FX). The stores acquired in China last year contributed 20% to this underlying growth, with new space in all regions generating a further 14%. Comparable store sales increased by 15%. Hong Kong and Taiwan, France and Germany, the United States and the Middle East and India were among the best performing markets.

Continued innovation in Burberry's two core categories, outerwear and large leather goods, drove nearly half of the growth in mainline sales, while Burberry Prorsum and London again outperformed, resulting in double-digit average selling price increases. Monthly flow of new fashion product, supported by synchronised digital initiatives, attracted the local luxury customer, while the increased penetration of core replenishment styles supported high tourist markets.

In the quarter, Burberry opened five and closed three mainline stores, with new stores including flagships in Canton Road, Hong Kong and Sydney, Australia and a sixth store in India, in Chennai.