Ethical clothing leaders to produce limited-edition T-shirt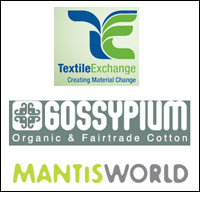 Textile Exchange (formerly Organic Exchange) has partnered with ethical clothing leaders Mantis World and Gossypium to produce its first limited-edition T-shirt collection for men, women, and children. Funds raised from the purchase of this t-shirt will help provide funding for farmers to attend the 2011 Textile Exchange Global Conference in Barcelona this September.

"We think the organic cotton T-shirt is a perfect way to connect our cause, raise awareness from field to street, and include consumers in directly supporting organic cotton agricul-ture," said Liesl Truscott, Farm Engagement Director, Textile Exchange.

Textile Exchange works to improve the lives of cotton farmers by supporting the expansion of organic cotton production and markets. But the non-profit has to find the funds to finance farmers' travel and accommodation, to enable farmers' face-to-face participation in global networking and business-building opportunities.

"We know coming to our conferences can take farmers to a completely new level of connec-tion to market and business awareness. With the proceeds from our first T-shirt project, we hope to get at least 10 small-scale farmers from Africa, India, and Latin America to Barcelona this year," said Truscott.

The largest global meeting of textile brands and retailers with an increasing number of manufacturers, the Textile Exchange annual conference provides a fantastic opportunity for people within the Industry to meet, get to know each other, and transact business, as well as learn about more sustainable textile products and processes. This opportunity to connect has resulted in many long-term business relationships.

By making farmers a part of the stakeholder discussions and allowing them to see for them-selves where their organic fiber ends up, future trade relations are improved and mutual understanding and respect is built between growers and retailers.

T-shirt Partnership Production
The Support a Farmer fundraising T-shirt is the result of an innovative collaboration of the textile supply chain and friends in the industry.

The beautiful and original artwork was designed by Gossypium, the independent, ethical clothing brand based in Lewes, United Kingdom. The luxurious, Global Organic Textile Stan-dard-certified organic T-shirt was ethically produced by Mantis World in their award-winning Tanzania factory from locally grown organic cotton, ensuring that the local economy gets the most value.

Organic cotton farming – the facts
Most of the world's cotton producers live in developing countries and farm less than 2 hec-tares of land. The overuse and misuse of pesticides and fertilizers common in conventional agriculture has harmful effects on land, water, biodiversity and people's health. Vulnerable farming communities and an unfair global market means the world's poor small-scale cotton farmers tend to remain poor; trapped in debt or forcedto migrate to (often) overcrowded cities.