Textile scion's mantra for success - 'Know your business'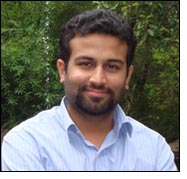 The first time you meet him, he comes across as a fun loving youngster, with an unshaved look and who may be living life in the fast lane. The warm smile and humble but firm handshake, immediately disarms you and within moments you feel, you have known him since a million years.

He is only 26 years, but displays a maturity much beyond his age. The leadership qualities are reminiscent of those seen in his illustrious father and forefathers. His lineage did not mean a direct entry into the boardroom, but he earned his stripes, by working his way up from the bottom to the boardroom.

After graduating with an electrical engineering degree from Stanford University, he preferred to first work outside the family-owned textile group in management consulting firm – Mckinsey, to learn management styles firsthand and now is pursuing an MBA from Harvard, which he expects to pass out next year.

He is none other than Kulin Lalbhai, second son of Mr Sanjay Lalbhai – CMD of the Rs 40 billion - Arvind Ltd. Kulin is from the fourth generation of a family, which traces its roots to Shri Kasturbhai Lalbhai, who laid the foundation of what is now Arvind Ltd.

The city of Ahmedabad owes it to the Lalbhai family for setting up many textile mills in the past and generating employment for thousands of people. Alongside, the family also donated land or set up many reputed educational institutions of higher learning in the city.

He is of the opinion that when you start your career working for a company other than your family business, it instills a sense of discipline and exposes you to various cultures. "Working for a management consultancy meant I got exposure to various industries, various functions, more importantly I got to work and interact with the smartest people in the country", he explains.

He adds, "I got the chance too see and experience the stuff, which I might have not been able to witness, if I had come straight to Arvind from Harvard. The two-year exposure with Mckinsey greatly raised my confidence levels and decision making and problem solving capabilities".

Kulin is a cricket fanatic in the same way as millions of other Indians. He loves to travel a lot with friends and family. One of his favourite books' is 'Lord of the Rings' and counts Dan Brown among his favorite authors in his college days. However, now, he prefers to read biographies and philosophical books.

Kulin Lalbhai is married to Jaina, who also shares a common interest in retail. She is currently doing a course in retail merchandising and management in the US and plans to turn entrepreneur by opening her own chain of boutiques.

Winding up after work, means spending quality time with the family. The Lalbhai family makes it a point to have dinner together, unwind and chat. Weekends mean going out with either family or friends. Sometimes, when all the three – his father and brother Punit too are at home, they discuss business and share notes too, since they manage diverse parts of the business.