Kohl's delivers strong earnings growth in challenging time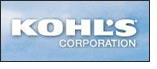 Kohl's Corporation Kohl's Corporation reported results for the fiscal periods ended July 30, 2011.

Second Quarter Results

Kohl's Corporation reported second quarter diluted earnings per share increased 30 percent to $1.09. Net income for the quarter was $303 million, compared with $260 million ($0.84 per diluted share) a year ago. Net sales were $4.2 billion, an increase of 3.6 percent over the comparable prior year quarter. Comparable store sales for the quarter increased 1.9 percent.

On a year-to-date basis, diluted earnings per share increased 22 percent to $1.81. Net income was $514 million, compared with $459 million ($1.48 per diluted share) for the first six months of fiscal 2010. Net sales were $8.4 billion, an increase of 3.4 percent. Year-to-date comparable store sales increased 1.6 percent.

These second quarter and year-to-date results are preliminary to the extent that they do not reflect the impact of any of the lease accounting corrections described below.

Kevin Mansell, Kohl's chairman, president and chief executive officer, said, "I am extremely pleased with our ability to deliver strong earnings growth in a challenging sales environment. Our gross margin rate increased significantly over second quarter of last year as a result of our increased penetration of private and exclusive brands and disciplined inventory management. Prudent expense management across many of our areas, especially in stores, allowed us to achieve lower-than-planned expense growth. We continue to benefit from strong profitability in our credit card partnership with Capital One as bad debt expenses declined significantly over last year."

Mansell added, "We are very excited about the introduction of our Jennifer Lopez and Marc Anthony brands which will launch in all stores nationwide and on-line in mid-September with our Anniversary sale. We believe that both brands will resonate strongly with our existing customers and drive new customers into our stores."

Quarterly Dividend Declared

On August 9, 2011, Kohl's Board of Directors declared a quarterly cash dividend of $0.25 per share of Kohl's common stock. The dividend is payable September 28, 2011 to shareholders of record at the close of business on September 7, 2011.

Store Update

Kohl's ended the quarter with 1,097 stores in 49 states, compared with 1,067 stores at the same time last year. During the first half of the year, Kohl's opened nine stores and completed the remodel of 85 stores. The Company expects to open an additional 31 stores and remodel an additional 15 stores next month.

Earnings Guidance

For the third quarter, Kohl's expects total sales to increase between 4 and 6 percent; comparable store sales to increase 2 to 4 percent; and gross margin as a percent of sales of down (10) basis points to up 10 basis points over last year. Selling, general and administrative expenses are expected to increase between 1.5 and 3 percent. Assuming share repurchases of approximately $500 million in the third quarter, achieving these assumptions would result in earnings per diluted share of $0.76 to $0.82 for the third quarter.