John Moore + MK: Style that happens to offer performance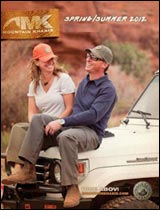 Mountain Khakis, a leading mountain-inspired lifestyle apparel brand, is proud to announce the launch of their Men's and Women's Spring/Summer 2012 collection.

For Spring/Summer '12, Mountain Khakis introduces 23 new Men's and 21 new Women's styles. For this historically 'hips-down' brand, they are particularly excited that a majority of these new styles are tops, and that nearly half of the collection is comprised of Women's styles.

"MK has been present in the Women's category since June, 2006 when we launched our Women's Alpine Pant," stated Martin Wilkinson, MK's National Sales Manager. "As part of our growth strategy, we have invested in our Women's program like never before, and are 100% committed to this channel. Our biggest statement for S12 is 'MK is now in the Women's business!'"

In the design and development phase for their Spring/Summer '12 line, the MK product team collaborated with John Moore and his team at The POP Studio. Best known as the visionary behind the Hollister brand, Moore and his team have worked with MK's product and creative teams since July, 2010. "Colors and silhouettes are truly MK, met with some 'John Moore infusion'," said Noah Robertson, MK Co-Founder and Director of Product Development & Design.

"It's great for us to establish our design direction that is true to MK, then test it against John's fashion insight. MK does not chase fashion and trend, but we are careful to stay germane to these patterns. Our style is mountain lifestyle, but relevant to all aspects of coastal, urban, western… MK relates to all sectors of Americana."

According to Moore, "The MK design filter for the Spring '12 collection is 'style that happens to offer performance.' MK has cranked up the volume on superior fabrications, great fit and new signature details. We're continuing to expand our tops assortment to offer more layers and versatility in the top to bottom look. It's a new day at MK--- everyone is inspired… and good things are happening!"

On the technical side, Mountain Khakis is introducing two new fabrics with particularly unique attributes. The Approach Collection features a jersey fabric made from coffee grounds, called S.Café. The Fairway Collection also features a performance jersey knit fabric made from PET recycled plastic bottles, called Bionic.

A technical composite fiber, S.Café exhibits inherent, permanent properties including odor control, UV resistance and quick-dry. The S.Café life cycle and patented process starts with the green coffee bean: the peabody. Spent coffee grounds from coffee shops are salvaged. Redirecting the waste away from the land-fill is an added eco benefit of the fiber. The coffee grounds are recycled into a composite fiber. The fiber is made into yarn, which then becomes a knitted or woven fabric. Curious minds may wonder whether the odor control is masked by the smell of coffee grounds… not the case.

Bionic uses an innovative, patented process to blend cotton and recycled PET. The Bionic life cycle and patented process starts with discarded plastic bottles. Redirecting bottles away from the landfill is one of many eco-benefits to the process. As plastic bottles are recycled into PET, or Polyethylene Terephthalate, the chips are transformed and melted into 2" fiber strips.