Chico's FAS to buy Boston Proper for $205 million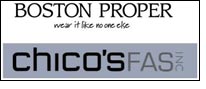 Chico's FAS Inc announced a definitive agreement to acquire Boston Proper Inc., a Boca Raton, Florida based privately held direct-to-consumer retailer of distinctive women's apparel and accessories. The $205 million transaction funded from available cash balances is expected to be immediately accretive to Chico's earnings in its first full year of operations before giving any consideration to potential synergies. Synergy opportunities include marketing, circulation and sourcing among others.

Commenting on the acquisition, Chico's FAS CEO and President David Dyer said, "Boston Proper has grown and thrived by offering women daring, modern fashion with a sensual feel through compelling catalogs, direct marketing campaigns and its on-line channel. Boston Proper's brand focus is highly complementary to our existing brands' customer experience, adds significant volume to our direct-to-consumer channel and provides us new opportunities to grow market share. Boston Proper's talented management team can now accelerate its strategic initiatives to grow revenues and profitability by leveraging our capabilities."

Dyer added, "I am also very pleased that our companies are well aligned culturally. We have a mutual focus on high quality fashion merchandise and personal service, developed by building lifetime relationships with our customers. With my ten years of experience in direct marketing - both through catalog marketing and pioneering e-commerce - with Lands' End, I believe Boston Proper will be a terrific growth vehicle for Chico's FAS and is a great addition to our brand portfolio of Chico's, White House|Black Market and Soma Intimates.

Sheryl Clark, Boston Proper's President and CEO stated, "We are excited to become part of the Chico's FAS family. Working closely with Dave and his management team, our focus will be to accelerate our growth by delivering more value to our customer base and attracting new customers to our brand."

Following the closing of the transaction, Boston Proper will operate as a stand-alone division within Chico's FAS, under the leadership of Ms. Clark as President, who will report to Mr. Dyer. Michael Tiernan, former CEO and current Chairman, who began the company as an entrepreneur serving a niche market, will be retiring. Boston Proper's operations will remain in Boca Raton for the foreseeable future.

Boston Proper, known for its "Wear It Like No One Else" tagline, achieved net revenues of approximately $110 million for fiscal year 2010, a double-digit percentage improvement over the prior year. Boston Proper has successfully grown revenues, profits and its customer base in each of the last three years. Year-to-date, 2011 Boston Proper's revenues have grown by approximately 13%.

The transaction is anticipated to close within 45 days but is subject to customary closing conditions and regulatory review, including federal government review under the Hart-Scott-Rodino Premerger Notification Act. Chico's FAS was advised on the transaction by Peter J. Solomon Company. Boston Proper was advised on the transaction by Janney Montgomery Scott.