Hampshire completes acquisition of Rio Garment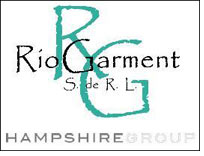 Hampshire Group Limited announced that it has completed the previously announced acquisition of Rio Garment S. de R.L. ("Rio"), a leading Honduras-based apparel manufacturer, designing, sourcing and producing knit tops for retailers and distributors in the United States.

Hampshire acquired Rio for an aggregate purchase price of $22.9 million, which was payable $7.0 million in cash and $10.0 million in Hampshire stock after the repayment in cash at closing of certain liabilities totaling approximately $5.9 million. The acquisition is expected to be accretive to Hampshire's 2011 operating results.

"We are very pleased to announce the successful close of the acquisition, as Rio Garment provides us a clear path toward profitability and reaffirms our commitment to delivering long-term shareholder value," said Heath Golden, CEO of Hampshire Group. "Strengthening our potential for growth, Rio Garment diversifies our distribution channel with direct access to the fast-growing vertical specialty store channel. At the same time, as we integrate Rio Garment, we foresee considerable cross-selling opportunities for both businesses. Further, the acquisition puts us on the leading edge of a strong industry trend toward migrating production back to the western hemisphere, from which additional unforeseen benefits are likely to come."

Based in San Pedro Sula, Honduras with 2010 net sales of $57 million, Rio was founded on the premise that Central America will best serve the 21st century needs of fashion retailers. The Company manufactures knit tops primarily for specialty retailers, including Aeropostale, its largest customer. Rio's location in San Pedro Sula enables it to readily draw upon the extensive network of local textile and accessory suppliers and an abundant labor supply. David Gren, General Manager of Rio, and his entire senior management team will continue to manage the day-to-day operations of Rio, reporting directly to Heath Golden.

In connection with the closing of the acquisition, Hampshire and the sellers entered into a second amendment to the merger agreement, which amended certain closing and post-closing payment mechanics. At closing, Hampshire also executed a stockholder rights agreement and voting agreement with the sellers. Pursuant to the stockholder rights agreement, the sellers have the right to designate two members to the Hampshire Board of Directors, and, effective as of closing, Paul Buxbaum, CEO of Buxbaum Group, and Benjamin Yogel, Managing Director of MRC Capital Group and an investor in Rio, have joined the Board. In addition, as contemplated by the merger agreement, one existing director of the Company, Janice Page, resigned from the Board effective as of the closing.