adidas SLVR T-Shirt Series Autumn/Winter 2011-12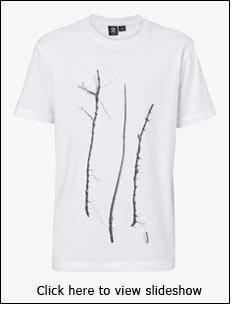 adidas SLVR has redefined casualwear as smart, sleek, and effortlessly elegant, carving out a niche for innovative pieces that match the pace of 21st-century lives.

For the SLVR A/W 11-12 T-Shirt Series seven different T-shirt graphics were designed by seven local relevant creatives from the fields of fashion and music, who have international impact. The graphics are printed on classic unisex crew neck T-shirts that run from size XXS to XL. The Fashion Group graphics are printed on white shirts, for the Music Group black shirts were chosen. The T-Shirt Series is available in adidas brand stores, SLVR monobrand stores and selected retailers worldwide.

For the Spring/Summer 2012 season three creatives from the field of Modern Art will design T-shirt graphics exclusively for adidas SLVR.

FASHION GROUP

Georgina Lim, Stefan Pietsch / Pietsch Lim AD & Design / Munich, New York, Melbourne
PietschLim is a German / Australian Art Direction duo consisting of Stefan Pietsch and Georgina Lim. Founded in 2004, the team has since worked internationally for a mix of premium lifestyle and fashion brands. PietschLim's work is informed by an understanding of art and contemporary culture combined with a strong visual aesthetic, sharing a passion for bold and engaging image making.

Jörg Koch / 032c Workshop / Berlin, Germany
Jörg Koch is founder and editor-in-chief of 032c, a bi-annual contemporary culture magazine at the intersections of fashion and art. 032c invites leading and emerging creatives to collaborate on mono-thematic issues. The magazine is internationally distributed to selected art bookstores, fashion boutiques and newsstands. Jörg Koch is owner of the 032c Workshop, an exhibition space in Berlin.

Edward Enninful / London, UK
Edward Enninful is a well known stylist and fashion director of W magazine. Edward contributes to numerous international fashion magazines such as American, Italian and L'uomo Vogue. He has worked with a range of acclaimed fashion photographers which includes Paolo Roversi, Craig McDean and Steven Meisel.

Wang Yiyang / ZUCZUG / Shanghai, China
Designer Wang Yiyang founded his label ZUCZUG in 2002. It offers unique, modern and comfortable clothing that allow women to express their style and individuality. ZUCZUG has retail stores in major Chinese cities like Shanghai, Hangzhou, Wuhan, and Hong Kong. The brand is also distributed internationally to Japan, Singapore, France, Belgium, and other countries.

MUSIC GROUP

Dan Lissvik / Gothenburg, Sweden
Dan Lissvik is founder of a record label called Information and also one of the guys behind the mega hyped kraut rock band Studio. Besides this he's releasing music under his own name and another music project called The Crêpes. He also does all the artwork for the different record sleeves for his own projects and a bunch of other bands.