Little one's get Charlie Banana, eco-fabulous designer diaper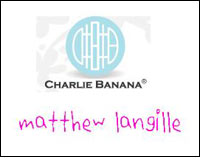 This season, fashionable baby bottoms are stepping out in original high-end prints, brilliant colors, and eco-fabulous design with the introduction of the Charlie Banana Fashion Collection by Matthew Langille. Moms are passionate about shoes, handbags and daily fashion and now they can obsess over their little one's fashionable bums with the Charlie Banana Fashion Collection.

Matthew Langille, 29, has designed artwork for more than 100 fashion houses/design brands globally including previous collaborations and designs for Swatch, Marc Jacobs and Victoria's Secret. Langille approached Charlie Banana to design a custom line of diapers, his inspiration stemming from his first son, due September 2011.

"I couldn't resist my design on the modern, stylish Charlie Banana diapers – especially given fashion-savvy parents use Charlie Banana. These cloth diapers are by far the most innovative, modern hybrid diapers on the market," said Matthew Langille. "Partnering with a company that allows my artistic ability to shine through and produces an eco-friendly product that will be a big part of my son's life is the perfect combination."

Six original designs will be available including BlackBeary, Lovey and Dovey, Handsome, Cutie, Robot Bleu/Robot Pink and Petit Coeur – all featuring punchy colors and an artistic retro feel. The Fashion Collection will be available as a Single Diaper in both Size and One Size and a Pack of 6 combination diapers.

"Charlie Banana is leading the cloth diaper industry with hybrid, luxurious diapers – and we're thrilled to add an exclusive line of chic options featuring an upbeat, humorous twist," said Gaelle Wizenberg, CEO of Winc Design, Inc. "Our top priority is to be innovative and eco-friendly, while making hybrid cloth diapering more attractive for new parents. Working with Matthew Langille has been fun and we love that his son will be a Charlie Banana baby from the start."

Cloth diapering is no longer safety pins and old-school styles of diapers. The Charlie Banana Fashion Collection by Matthew Langille brings all the practical benefits of hybrid cloth diapering, while revitalizing the look and making them more fashionable for babies.

The company is also launching more organic cotton leg warmers in black, red, turquoise, Shanghai green, yellow and hot pink – all made of organic cotton. The solid print leg warmers coordinate with the entire Fashion Collection.

Charlie Banana, is an innovative hybrid diapering system and collection of eco-friendly diapering accessories. The products do not contain chlorine or perfume and many accessories are made with organically grown cotton.

Charlie Banana proudly supports Operation Smile Inc., a worldwide medical charity that changes the lives of children suffering from cleft lip, cleft palate and other facial deformities. One percent of all Charlie Banana sales will be donated to Operation Smile.

To view the entire collection, Charlie Banana will be located in Booth #337 at the ABC Baby Show.