Worldwide futures orders up 16% - NIKE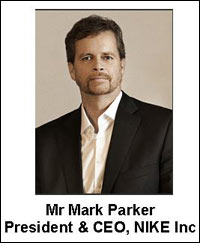 NIKE Inc. reported financial results for its fiscal 2012 first quarter ended August 31, 2011. Diluted earnings per share and revenue represented new records as a strong demand for NIKE, Inc. brands, SG&A expense leverage, tax efficiencies and a lower average share count offset the impact of a lower gross margin.

"We're off to a strong start in fiscal year 2012. We have a powerful and diverse portfolio of brands and businesses, and we're focused on leveraging them to drive growth and create value for our shareholders," said Mark Parker, President and CEO, NIKE, Inc. "It pays to be prudent in times like these. It's also essential that we remain on the offense, creating opportunities. We do that by connecting with consumers, designing innovative products and delivering amazing experiences. That's how we continue to lead this company and the industry into the future."*

First Quarter Income Statement Review
• Revenues for NIKE, Inc. increased 18 percent to $6.1 billion, up 11 percent on a currency-neutral basis. Excluding the impacts of changes in foreign currency, NIKE Brand revenues rose 12 percent with growth in every geography except Western Europe, which was flat due to the negative impact from changes in the timing of shipments and comparisons to last year's strong World Cup related sales. By category, revenues were up on a currency neutral basis in all key categories except Football (Soccer), which had a challenging prior year comparison given the World Cup last year. Revenues for our Other Businesses increased 10 percent including 2 percentage points of benefit from changes in currency exchange rates, as growth in Converse, Cole Haan and NIKE Golf offset lower revenues at Hurley and Umbro.

• Gross margin declined 270 basis points to 44.3 percent mainly due to higher product costs and a higher mix of off-price revenues sold at a lower margin than the prior year. These factors more than offset the positive impact of growing sales in our Direct to Consumer operations, select pricing actions and the benefits of ongoing product cost reduction initiatives.

• Selling and administrative expenses grew at a slower rate than revenue, up 9 percent to $1.8 billion. Demand creation expenses increased 2 percent to $692 million driven by marketing support for key product initiatives and investments in retail product presentation for wholesale accounts. Operating overhead expenses increased 14 percent to $1.1 billion due to additional investments made in our wholesale and Direct to Consumer businesses.

• Other expense, net was $18 million, comprised largely of foreign exchange losses, primarily from currency hedges. For the quarter, we estimate the year-over-year change in foreign currency related losses included in other expense, net combined with the impact of changes in foreign currency exchange rates on the translation of foreign currency-denominated profits increased pretax income by approximately $32 million.

• The effective tax rate was 24.3 percent compared to 26.0 percent for the same period last year, an improvement due primarily to a reduction in the effective tax rate on operations outside the United States.