Martin Golf Apparel readies spring 2012 collections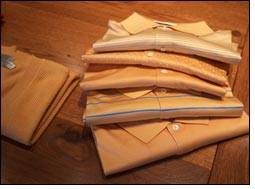 Golf industry icon Rick Martin and his new company, Martin Golf Apparel, are preparing to launch their first new collections - Spring 2012.

Martin Golf Apparel - whose slogan is "Timeless as the Game" - will be sold by an ultra-high account base, ideally the nation's top Private Golf Clubs. Martin Golf Apparel won't do any department store business. The company will take a very understated approach, as the garments are a lifetime quest for perfection from Martin.

"This is not about branding," says Martin. "It is about a beautiful garment that men will want to wear."

The world's finest Pima cotton will be the main ingredient in the company's lines, starting with the Spring 2012 collections. The finest collars in golf feature special, collar-specific yarns. Each garment will feature excellent high-end sourcing and special high-end finishing.

Martin has loved golf since first discovering it in the 1940s, and was drawn to professional golf by the likes of Jimmy Demaret, Byron Nelson and Ben Hogan.

"It was not only their skill, but their persona on the course, - elegant, serious men who competed against others as gentlemen," Martin says. "They inspired me not only by their behavior, but by their appearance."

Their fine, 100% cotton lisle golf shirts had what Martin calls "a drape and a stance that allowed for the free motion of their swing. The classic styling and the fact there weren't logos didn't upstage their talent.

"Beginning in the 1970s," says Martin, "as the Tour was developing new stars, many of the players were drawn away from anything considered classic. Soft color was replaced by a palette that could be best described as 'anything goes' - garish plaid pants bookended by matching white belt and shoes. Then bright-hued poly-cotton blends and other synthetic golf shirts began replacing 100% cotton as the golf shirt cloth of the moment."

By 1995, borne of his frustration with contemporary, synthetic golf shirts, Martin began a two-year search to develop the kind of fine cotton golf shirt fabric that had virtually disappeared years before. His endeavor resulted in the creation of a 100% Long Staple Pima Cotton Lisle fabric that could prevent fading and almost eliminate shrinkage - "a golf shirt that will keep its shape and also its luster after years of play," Martin says.

That same lisle yarn was developed into the unique soft knit collar that completed the shirt that, according to Martin, "became the benchmark that all other golf shirts were compared to."

Martin couldn't understand why most makers moved away from this costly process and away from Cotton Lisle.

"Instead," Martin says, "the industry was mesmerized by a version of that Polyester bug that has been around since the 1960s. This time, however, with a new young audience, there is no mention of the term 'Polyester.' Polyester has been replaced by terms like dryfit or tech. Makers decided that golf shirts needed to be styled like bowling shirts or, in some cases, a logoed-up shirt befitting NASCAR sponsors.