Richard Zielinski to showcase T3 line of products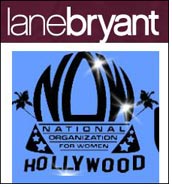 Lane Bryant, the nation's leading women's curvy apparel retailer, kicks off the sixth annual Hollywood NOW Love Your Body Day by hosting a special event on Friday, October 21 at The Westfield Culver City mall.

The National Organization for Women (NOW)'s Love Your Body Day, with events across the country slated for October 19th, is an annual event that brings together women of all sizes to celebrate self-acceptance and to promote a positive body image. The Hollywood NOW celebration has expanded to a weekend full of events which will run from October 21st to the 23rd this year and includes a launch party, festival and body image panel discussion. Love Your Body Day events will be free admission and open to the public all weekend long.

On Friday, October 21st from 6 to 9 p.m., shoppers are invited to Lane Bryant's Westfield Culver City store (6000 Sepulveda Blvd, at the intersection of Slauson and Sepulveda in Culver City, Calif.) for an evening of fashion and 30% off all in-store items while sipping signature "Lanetini" cocktails and dancing to the beats of a live deejay. Lane Bryant will give away a $500 gift card to one lucky winner in honor of Love Your Body Day.

Saturday's Love Your Body Day events will include a panel discussion featuring body image experts from around the nation, including Lane Bryant's technical design director, Richard Zielinski. Following the panel discussion, there will be a fashion runway show highlighting collections from Lane Bryant's fall and holiday lines and other fashion retailers in support of the national philanthropic cause. Lane Bryant will have a booth set up during the fashion show offering bra fittings and giveaways for all attendees.

"I'm so excited to have Lane Bryant return as a sponsor of Hollywood NOW's Love Your Body Day," said Chenese Lewis, President of Hollywood NOW. "Lane Bryant's participation shows the company cares about women of all sizes and encourages them to embrace who they are and let their inner light shine through. It reflects Lane Bryant's pride in being involved in the community and connecting with their customer. That's why they are a leader in the industry and the reason millions of women, including myself, remain loyal customers to the brand."

Lane Bryant Technical Design Director, Richard Zielinski, will showcase Lane Bryant's new Tighter Tummy Technology (T3) line of denim jeans and classic fit trousers in a special presentation on the "Technology of Fit," discussing the innovative design behind the line. Mr. Zielinski will be available for interviews and questions following the presentation.

This fall, Lane Bryant introduced its national "Technology Just Got Sexy" campaign to change the perception that curves can't be sexy and encourage women to flaunt their assets, heralding the launch of the revolutionary "Tighter Tummy Technology" (T3) line of jeans and trousers. The T3 trousers and jeans have an exclusive built-in mesh control panel made out of a unique nylon and spandex blend that flattens the tummy and slenderizes the silhouette.