Burberry generates 30% revenue growth in H1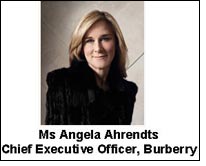 Burberry Group plc, the global luxury company, reports on trading for the six months to 30 September 2011.

Highlights:-
Total revenue of £830m, up 30% underlying
- Retail momentum maintained throughout half
- Wholesale and licensing in line with guidance

Retail revenue of £528m, up 45% underlying
- Comparable store sales growth of 16% (Q1: 15%; Q2: 16%)
- Flagship markets including New York, London, Paris, Hong Kong and Dubai performed strongly
- Continued comparable sales growth of around 30% in acquired China stores

Wholesale revenue of £248m, up 9% underlying
- Up 20% excluding China
- Led by Americas, Emerging Markets and Travel Retail
- Continued conversion to retail and rationalisation of distribution leading to mid single-digit % underlying wholesale growth expected in H2 2011/12

Licensing revenue of £54m, up 4% underlying
• Further strategic and operational progress
- Core outerwear and large leather goods drove half of retail growth
- New initiatives including men's accessories and tailoring drove wholesale
- Launch of Burberry Body fragrance via social media drove brand awareness
- Opened net eight mainline stores with focus on flagship markets; capital expenditure still planned at £180-200m in full year

Angela Ahrendts, Chief Executive Officer, commented:
"Our first half performance, with 30% revenue growth, clearly demonstrates the continuing global momentum of the Burberry brand, underpinned by consistent and balanced double-digit growth in retail and wholesale, all regions and all product categories.

Looking forward, our focus remains on investing to drive growth and executing our innovative strategies in product design, digital marketing and retail, while being fully prepared to respond appropriately should we see any significant change in luxury demand."

Revenue in the first half increased by 30% at constant exchange rates. As a result of the strong revenue performance and some re-phasing of investments and costs, the expected retail/wholesale operating margin in the first half has improved and is now projected to be broadly unchanged year-on-year. As previously guided, Burberry expects a modest improvement in full year retail/wholesale operating margin.

Retail
Retail sales in the first half increased by 45% on an underlying basis (up 44% at reported FX). Up to the anniversary of their acquisition, the stores in China contributed 14% to this underlying growth, with new space in all regions generating a further 15%.

Comparable store sales increased by 16% in the first half (Q1: +15%; Q2: +16%). Mainline stores further increased their penetration and all four regions delivered double-digit mainline comparable growth in the second quarter. Flagship markets including New York and San Francisco, London and Paris, Hong Kong, Taipei and Dubai were among the strongest performers.