VICUNHA forecast Spring/Summer 2013 trends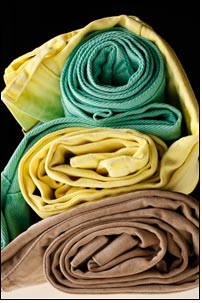 VICUNHA continues to expand in the European market, promoting their volume business in fast-paced, vertical high fashion markets. They also focus on specialized business with major brands, through volume-independent, innovative product lines and seasonal news. As a pioneering member of the BETTER COTTON INITIATIVE in the Brazilian market, their main priorities are sustainable, clean cotton production, environmental protection and social responsibility.

For the upcoming Denim by Première Vision in Paris, from November 30th to December 1st, 2011, the Brazilian denim giant shows their "lifestyle" colors with a new stand concept, as at the previous fair. The stand's design and atmosphere, which was developed with a Parisian trend agency, embraces the season's moods.

FORECAST
"Plurality" is the catchphrase for the Spring/Summer 2013 season. Denims have to be equally stylish of every shade, and in the three main kinds of washes: Dark, including the authentic "rinse-wash"; middle, with the casual "used-wash"; and light, with "bleach wash," for a naturally-faded favorite jeans look. Despite all the choices, "sky blue" and "pure indigo" are the clear front-runners and are considered strong favorites this season.

In addition to color and wash, appearance and texture are key: high density denims come out on top with their clean look and soft, comfortable fit, which is of increasing importance in the men's range. Logically, lightweight fabrics such as cotton, Tencel and linen are also highlights for jeans, currently in fashion for women's jumpsuits, overalls and skirts. Generally, there is a strong trend towards fine, combed threads. Whether cambric or 2x1 ribs – soft, relaxed fit is key.

Accordingly, super-stretch remains at the forefront, not only for fashionable slim fits, but also to ensure authentic design and wearability. Finely combed threads, soft threads, and polyamide threads ensure softness. The versatile assortment also includes ladies' satin, a 2x1-rib, and 3x1-rib for authentic jeans brands! Corduroy, one of the highlights of the previous winter, remains an important part of the product line in summer with a light, delicate design. Preferred colors: distressed light blue and beige!

The most important criteria – no matter what the season – is social and environmental responsibility. At the beginning of the year, VICUNHA became the very first Brazilian company to join the BETTER COTTON INITIATIVE.

Vicunha's first priority is the sustainable, clean production of cotton. "Pricing policy is important, but not at the expense of environmental and social responsibility," commented Thomas Dislich, CEO of VICUNHA Europe, on membership in the BCI. VICUNHA embraced sustainability as part of their corporate culture even before joining the Better Cotton Initiative. For years, the company has been in accordance with the quality certificates ISO 9001, ISO 14001 and the Oeko-Tex Standard 100, which prohibits the use of substances hazardous to humans in manufacturing, dyeing and assembly.