Successful third quarter despite volatile market – PUMA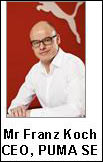 Puma announced its nine months of 2011 result and third quarter 2011.

Highlights Third Quarter 2011
• Consolidated sales increased by 10.2% currency adjusted to € 841.6 million
• Gross profit margin remained at 50.0% despite volatile input prices
• EBIT improved by 1,8% to € 118.6 million
• Net earnings remained flat at € 81.7 million
• EPS are up to € 5.45 from € 5.43
• PUMA has signed football stars Agüero, Falcao and Fàbregas

Highlights First Nine Months of 2011
• Consolidated sales climbed 11.0% currency adjusted to € 2.3 billion
• Gross profit margin remained at a sector-best 50.6%
• EBIT rose by 2.2% to € 285.0 million
• Net earnings improved by 4.7% to € 197.1 million
• EPS increased from € 12.51 to € 13.15

Outlook for the remainder of the Financial Year 2011
• PUMA's management reiterates that PUMA's target is € 3 billion in sales for the full year.
• In light of PUMA's "Back on the Attack" growth strategy, investments and expenses will remain at a high level, and gross profit margins will continue to be stressed based on procurement price volatilities.
• Management continues to foresee an improvement of net earnings in mid single-digits for the full year.

"PUMA posted a very solid sales performance for the fifth consecutive quarter," said Franz Koch, CEO of PUMA SE. "This underpins our 5-year growth strategy, which is already delivering results. After a strong performance in the first nine months of this year, we are now approaching our sales target of € 3 billion for the full year, and despite continuing cost pressures we maintain our forecast of an improvement in net earnings in mid single-digits."

Asia/Pacific and Latin America drive PUMA's Sales Growth in the Third Quarter – Performance Business accelerating

PUMA's third-quarter consolidated sales rose 10.2% currency adjusted and 7.3% in Euro terms to € 841.6 million compared to last year, representing the most successful quarterly performance in the firm's history. Asia and Latin America provided the platform for these numbers, underpinning the excellent overall result with double-digit growth.

With all product categories contributing to this increase, Footwear rose 7.0% currency adjusted to € 431.1 million, Apparel went up 13.8% to € 294.7 million and Accessories climbed 13.9% to € 115.8 million.

PUMA's Running category in particular grew significantly, boosted by Usain Bolt's spectacular performances at the Track & Field World Championships in Daegu and by the light-weight concept which includes our best selling PUMA Faas range. The shoe is constructed with BioRide Technology which provides runners with a naturally responsive ride.

PUMA's Women's Fitness category is growing strongly, a consequence of enhanced targeting of the female consumer demographic with PUMA's Bodytrain concept. PUMA's Sailing category also improved, as sales have been accelerating in the run-up to PUMA's participation in the Volvo Ocean Race 2011-2012. Given the duration of this sailing marathon and in the light of our new extended range of outdoor products, PUMA expects the positive performance of its Sailing category to continue.